5
mn read
Virtualization Certifications
As an IT professional, there is no escaping the fact that virtualization skill sets will take you far. Virtualization uses server centralization to reduce upfront costs and is a must for today's businesses.
Virtualization certifications can help computer storage professionals stay competitive in the workplace. Before deciding on the best virtualization certification, management should understand factors like the virtualization technology provided in the training, preconditions, and availability. There are one of the best virtualization certifications available that you can take and become a valuable employee in an organization.
Virtualization has already been present in the field since 1960, but VMware completely dominated this enterprise innovation after only a few years. It is now widely accepted as a standard feature in all types of venture IT strategies. This technology is always used on the desktop, in applications, or in the cloud.
Keep reading the article to explore more about different virtualization certifications you can take in 2023. We will also discuss the 6 best and free virtualization certifications.
What is Virtualization?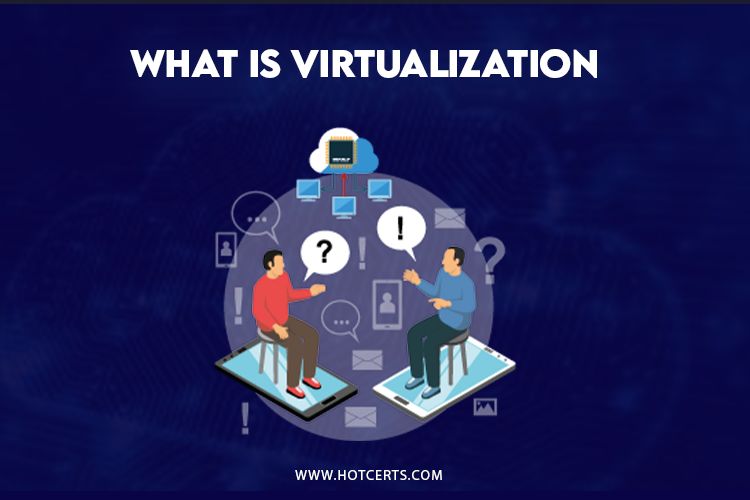 The creation of a virtual – rather than an actual – version of something, for example, an operating system (OS), a web service, a storage device, or a shared network, is known as virtualization.
To develop a virtual system, virtualization employs software that imitates hardware functionality. This practice enables IT organizations to run multiple operating systems, different virtual systems, and various applications on a central server. More significant efficiency improvements and economies of scale are among the advantages of virtualization.
The use of software to enable a piece of hardware to operate multiple operating system pictures simultaneously is known as OS virtualization. Developed on mainframes decades ago, the technology allows administrators to stop wasting expensive computing power.
6 Best Virtualization Certifications in 2023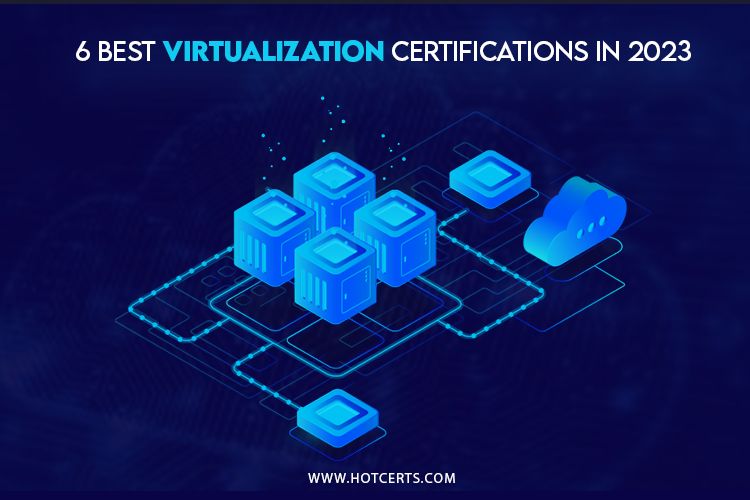 Let's take a closer look at some of the top virtualization certifications to consider. Keep in your mind that positive factors must be considered. For example, what virtualization does the company employ? If you're new to virtualization, why not look for virtualization-related job opportunities in your area? What are the skills or certifications that employers are looking for?
Here are the best network virtualization certifications you must know in 2023:
VMware Certified Professional 6.5 – VCP6.5 DCV
VMware is the market leader in virtualization, and their VMware Qualified Professional – Data Center VMware credentials are among the most valuable.
Control Up and a supervision software company indicated that 68% of their customers used VMware, 11% utilized Microsoft Hyper-V, and 18% used Citrix XenServer in a November 2018 assessment of the virtualization in use by 758 of their customers. There's no doubt that VMware is indeed the 800-pound gorilla in this space, and there are plenty of opportunities for VMware-certified professionals.
The VCP-DCV certification is compatible with the following vSphere versions: VCP5 DCV, VCP6 DCV, and VCP6.5 DCV. VMware shifted gears with the update of vSphere 6.7, naming its next credential VCP DCV 2019.
Citrix Certified Professional – Virtualization (CCP-V)
The first is the Citrix Certified Professional – Virtualization (CCP-V). This certification is designed for individuals who work with and implement XenDesktop and XenApp Service solutions. This is a very special subset of qualifications. If your company or the company you want to work for does not use XenDesktop, you should avoid it. It is one of the best and freest virtualization certifications you must learn.
However, if they do, a user with this credential can thrive. Citrix maintains a firmly defined credential program for those individuals interested in working with Citrix goods and services. Citrix currently offers three solution tracks: agility, virtualization, and networking.
Citrix Certified Associate in Virtualization – CCA-V
Citrix's Xen-based providing integrates well with Azure and is perfect for system administrators specializing in virtual applications and desktop goods. Citrix also provides professional qualifications ranging from the associate to medium to master.
The Citrix Certified Analyst (CCA-V) certification teaches systems and desktop administrators how to configure, set up, and maintain Citrix application products such as Virtual Apps, Cloud Adapters, StoreFront, and others. It is one of the best virtualization certifications. To take the exam will take about $200 to take.
Oracle VM 3.0 x86 Certified Virtualization (Implementation) Specialist
Instead of offering broad virtualization certificates relevant across systems, Oracle VM's virtualization product lines concentrate on a specific niche of Oracle Alliance members. The program intends for professionals who want to sell or implement the Oracle VM alternative in virtualization. These virtualization certifications can make you the highest-paid candidate.
Professionals can gain hands-on experience installing and uncovering OVM servers, modifying storage and network repositories, managing guest VMs and templates, and more with the Oracle VM 3.0 for 64-bit Certified Execution Specialist certification.
Because the certification intends for intermediate-level professionals, field experience and pre-certification training are strongly recommended. To receive this certification, individuals must also pass the Oracle VM 3.0 for 64-bit Essentials 1Z0-590 test with a 61% score. Oracle VM certification is one of the best network virtualization certifications in 2023. The overall exam fee is around $245 to take.
Red Hat Certified Specialist – Virtualization
The Red Hat Certified Specialist (RHCS) in Virtualization test designs for NetOps administrators working with a virtualized Red Hat Linux environment.
This certification validates skills such as implementing the Red Hat virtualization manager and hypervisor, managing storage, continuing to work with virtual machines, and producing networking objects and grouping policies.
Red Hat has no formal prerequisites for completing the certification. Nevertheless, native Linux competency will help you understand basic concepts and pass the test effortlessly. Developers should at least be familiar with the information enclosed by the Linux Foundation Certified Server Manager Training. The overall cost of virtualization certification is around $245.
Networking & Security Architecture in VM ware NSX
This course is one of the best and free virtualization certifications globally. This 8-week online course teaches learners the fundamentals of network virtualization using VMware NSX.
To benefit from this course, you should be familiar with general IT concepts such as routing, switching, stateful firewall, incident management, business continuity, cloud computing, and security. This certification is indeed one of the popular virtualization certifications.
You will be able to do the following at the end of the course:
Understand the fundamentals of network virtualization
Describe the business value and use cases of NSX
Explain how NSX differs from traditional networking
Summarize networking and security application architecture with VMware NSX centered on the following main areas:
Micro-segmentation
OpenStack Automation
VMware vRealize Automation
Disaster Retrieval and Business Continuity
Operational Transformation
Hands-on experience is required to demonstrate understanding.
Conclusion
Virtualization is a complicated matter that isn't getting any easier. VMware, Microsoft, and Cisco are combining their latest premise-based technology with cloud-based alternatives from AWS, Azure, and Google. As a result, the market for IT experts with substantiated virtualization skills is expected to increase in the near future.
Earning the best virtualization certifications allows you to use in-demand techniques. It also allows you to carve out a fulfilling job niche that provides job security. Comment below your queries related to virtualization certifications and their concerned content.