7
mn read
In this new world of technologies, computer networking is the best platform among all the certifications. It has been more demanding certifications over the years. Without a network, you cannot run any organization because it is central. Networking is a crucial part of an organization because all computer system relies on networks.
All the computers in an organization are connected to a server where a network administrator is present. A network administrator does all the monitoring of computers. One of the best certifications in computer networking is a network administrator.
In 2021, the demand for network administrators was about 34% more than past few years. Employers always seek passionate, hardworking, and determined administrators for their company. It is not as informal a task as it looks to be a network administrator. You have a lot of responsibilities as a network admin, as they are a crucial part of the network system.
Suppose you're not allowed to run YouTube while working in a company. Did you ever think why you're restricted from using YouTube or any social media? The main reason behind all these restrictions is network administrators. The demand for a network administrator globally is on another level.
Every little or big organization now needs a network administrator to better perform its large computer networks.
There are a lot of network administrator certifications available now. You can choose what credentials fit best according to your experience and interest. Keep reading this article to know more about the best certificates of network administration employers are seeking in 2022.
What is a Network Administrator?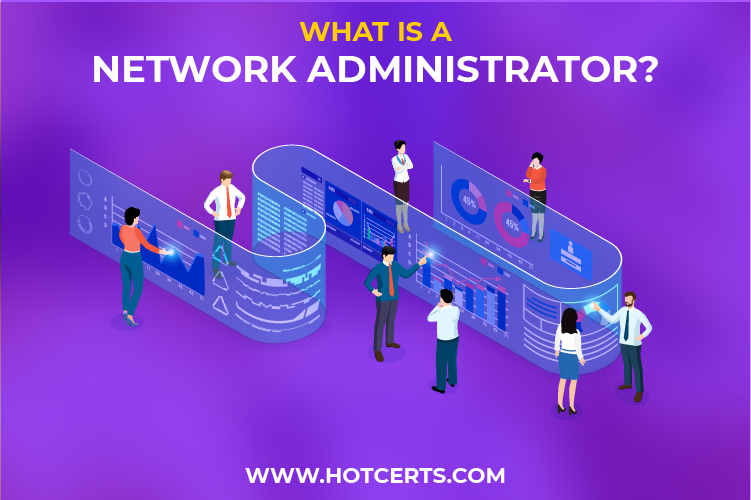 A network admin is an information technology professional who accomplishes an organization's network. A network administrator must have a high level of technical awareness, and it is the advanced level of staff in an organization. They have to keep the computer network running and observe operations and functions contained by the network. A network admin must possess experience in maintaining, upgrading, and installing any hardware or software needed for a computer network to run smoothly.
The computer network consists of LAN (Local Area Network), WAN (Wide Area Network), intranet, and the internet.
What is a Network Administrator Certification?
It is a higher certification associated with IT and CS (Computer Science). A person who wishes to work as a network administrator must have any network administrator certification and the relevant degree. The credentials for network admin vary from entry-level to expert level, depending upon your experience and interest.
Acquiring a network administrator certification lets you quickly take control of an organization's network, or you can create a whole new network from scratch. Many popular network admin certifications are offered by in-famous organizations such as Juniper, Microsoft, Red hat, and Cisco.
Network admins are infrequently associated with direct client support like assistance work area responsibilities. All things being equal, they participate in significant level mechanical help, for example, keeping up with network equipment and programming gear and checking hardware to guarantee general organization activities.
Network addresses are regularly allotted through the organization manager. Also, network overseers arrange the approval and verification of people or gatherings who access network assets.
Network administrators may likewise, in fact, participate in the administration and upkeep of PCs, servers, printers, switches, firewalls, programming executions, security refreshes, VPN passages, document servers, interruption location frameworks, and a broad scope of extra innovations related to both programming and equipment inside the organization.
Top 7 of The Best Network Administrator Certifications You Must Know About: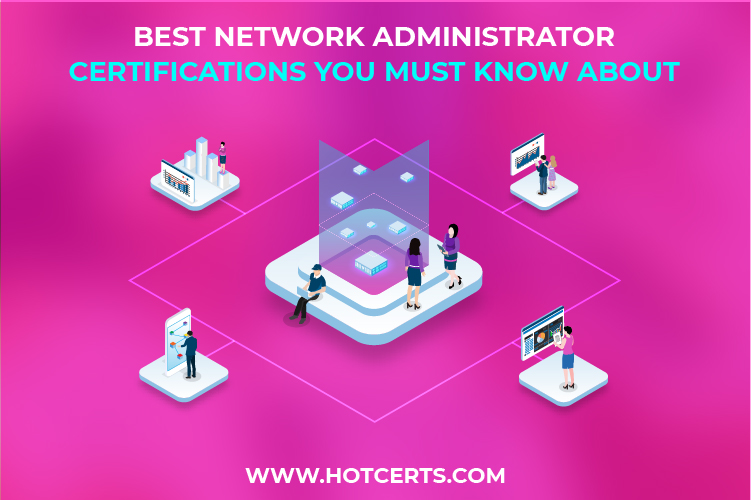 We will discuss the best seven network administrator certifications that every employer wants to know.
Cisco Certified Network Professional – CCNP
CCNP is one of the highest admired and well-known network administrator certifications around the globe. CCNP has opened many doors for high-paying jobs in many organizations. If you want to pursue your certification on CCNP (Cisco Certified Network Professional), you must pass two exams. One exam includes your fundamental networking technologies, and the other exam comprises the main area you'll select to specialize in.
The leading role of CCNA certified is to install, troubleshoot, manage, and configure networks using the products of Cisco. The main focus of CCNA is o routing and switching, designing the network, wireless routing, and cloud services. CCNP is a foundational certification for network administrators, and it will assist you in getting a primary entry-level job in an organization.
The certificate permits a partner to fill in as a specialist in at least one region, including directing and exchanging, security, remote administrations, or server smallholding activity. While points of interest of the gig change, the responsibilities of a CCNA might include assessing network execution, characterizing arrangements and techniques, and further developing organization security.
CNAs regularly select and test gear before different workers at an organization are permitted to associate with it. CCNA certificates usually are not compatible.
Salary of CCNP
The salary of CCNP certified is about an average of $102,438 per annum in the US.
CompTIA Network +
CompTIA Network+ certification is one of the long-term certifications for network administrators. CompTIA Network+ is also a foundational certification, but it respects the industry because it covers a computer network's core areas.
Suppose you are a beginner in your professional life and do not know where to start to become a professional network administrator. In that case, this certification is the best option for you to begin with. You'll learn essential networking topics like designing, building, managing, and maintaining network devices. You'll also learn to use routers and switches.
CompTIA Network+ is also for IT experts to harden their abilities and aptitude in complex PC organizations. The test covers subjects, for example, investigating organization gadgets and the design and the executives of both wired and remote devices. Popular center regions, for example, cloud and virtualization innovations, are additionally covered. CompTIA Network+ certification is the best certification to be a successful network administrator.
Salary of CompTIA Network+
The salary of a CompTIA Network+ professional is between $43,000 to $82,000 per annum in the US, depending upon your experience & expertise.
Certified Wireless Network Administrator – CWNA
The CWNA certification is specially designed for networking experts who want to pursue their careers in the wireless technologies world in the best way. It is also a foundational level certification, but it is well famous globally because it authenticates your keen knowledge of wireless networks. To acquire this certification, you must pass one exam of CWNA-107.
After getting this certification, it will be valid for only three years. After three years, you need to re-certify it by taking one exam of CWNA. It will renew your certification for another three years. The core skills you must have after getting a CWNA (Certified Wireless Network Administrator) are:
Radiofrequency technology
Privacy and security of wireless Local Area Networks(LANs)
Problem-solving and troubleshooting
Install, design, and manage the networks
Knowledge of hardware and software for LAN
The network architecture for the 802.11 wireless network
There will be about 60 questions in the CWNA exam, and you will be given 1hr and 30 min to complete this exam. To pass this exam, you must score about 70% marks.
Salary of CWNA:
The salary of CWNA ranges from $58,450 to $131,900 per annum in the US.
Cisco Certified Network Professional Enterprise – CCNPE
This CCNPE certification from Cisco shows your abilities and skill with big business organizing arrangements. There are two tests inside this certificate program. The main covers center endeavor innovations, while the second permits you to zero in on the centralization of your decision. It allows you to redo your certificate to lodge your aptitude objectives readily.
From this certification, you will learn the core skills like executing SD-WAN solutions by Cisco, Managing and Designing Cisco wireless networks, and managing Cisco networks. There are no essentials for CCNPE certification. In any case, those seeking after it has a regular pretty long while of involvement with executing endeavor organizing arrangements. This makes it a proper accreditation for those hoping to propel their new professions.
Salary of CCNPE
The salary of CCNPE ranges from $102,439 to $141,668 per annum in the US.
Certified Network Computer Technician – CNCT
The CNCT certification is the best choice to enter the network administration world. Cisco Certified Technician establishes the entry-level skills to manage, replace, diagnose, and repair the Cisco devices at the user locations. It is also one of the best network administration certifications.
The CCNCT exhibits that you have a piece of information on essential PC electronic ideas, alongside web and organization advances. Estimated time of arrival International, a not-for-profit exchange affiliation that gives accreditations to innovation-related ventures, offers the program. You should get a 70% on the test to acquire the affirmation. You should finish keeping projects to restore your certificate every year to get the certification. Before completing the accreditation program, you're ready to structure, work, introduce, arrange and investigate different sorts of working frameworks and equipment.
Salary of CNCT
The salary of CNCT ranges from $42,453 to $53,512 per annum in the US.
Microsoft Certified Administrator – MCA
An MCA is an expert who applies and manages MS solutions. This certification includes excellent services associated with security and networking. There are numerous tracks you can follow with MCA certification. For those who wish to work as a network administrator, the best choice is, to begin with, MC certification.
MCA certified are in massive demand by the employers of many organizations. The core responsibilities of Microsoft Certified Administrator (MCA) include implementation, managing, and troubleshooting the present system and networks environment, which are running on Windows Server 2003 or 2002 OS.
To acquire this certification, you must pass one exam, which costs about $150 to take. You can visit the official MS website to take the exam whenever you're ready.
Salary of MCA
The salary of an MCA ranges from $66,000 to $114,592 per annum in the US, depending upon your experience and expertise.
CompTIA Security+
Just like CompTIA Network+, CompTIA Security+ is a well-known certification worldwide. It is also one of the top certifications in network administration. It enhances your core skills of securing and monitoring the fusion environment, having IoT, mobile, and cloud. It is an introductory level certification, and it does not have any privileges. If you want to be a professional network administrator in security, CompTIA Security+ would be the best choice for you.
If you want to acquire this certification, you must pass one exam of SY0-502. After getting this certification, you'll be able to find a job in the core fields such as junior IT auditor, Network admin, Security admin, System admin, and penetration tester.
Salary of CompTIA Security+
The salary of CompTIA Security+ ranges from $66,000 to $114,592 per annum in the US, depending upon your experience and expertise.
Conclusion
There is a lot of network administrator certification present in the world. It is up to you to decide which certificate is best for you. The certifications, as mentioned earlier, are the best certificates that many employers are looking for. You have to be watchful while choosing a suitable certificate for you. Networking professionals will be in massive demand in the following years. Comment below if you have any problems selecting the proper network administrator certification. We'd be happy to assist you!