7
mn read
8 IT services and the era of Information technology:
For some individuals, information technology asks people for help when something goes wrong with their PC. That view of IT isn't entirely off-base, but it downplays the scope of this fundamental discipline. Most people's interactions with IT involve computer problems, but the work goes far beyond that.
What is Information Technology?
Computers and Information Technology (IT) is a business sector dealing with computing, including everything related to hardware, software, telecommunications, and systems that generally facilitate the transmission or communication of information.
There are many things involved in IT. For example, consider the IT department of a company. There are many jobs and many people with different responsibilities. These responsibilities range from keeping your systems and data safe to keeping your network up and running. Some people enter data, manage databases, and program people. Other decision-makers, such as the Chief Information Officer (CIO), decide how IT departments operate and what components to buy.
Why do businesses need Information Technology?
Information technology (IT) enables organizations to work more efficiently, maximize productivity, and benefits the business world in so many ways. In today's fast-paced world, people are looking for ways to get more work done in a shorter period; it should only be possible through information technology.
Faster communication, electronic storage, and record protection are benefits that IT can bring to our business. Driven by the demands of the competitive and new business environments, on the one hand, and profound changes like computers, on the other, one cannot overlook the importance of IT. Information technology systems deliver critical information to managers and come in many technologically advanced devices.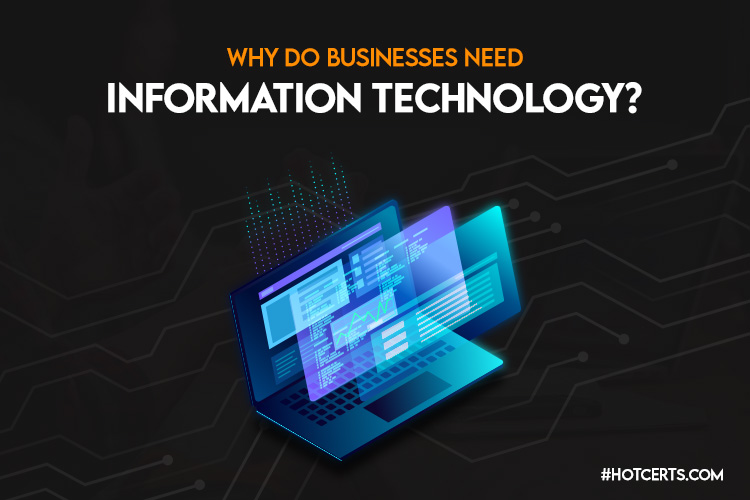 Businesses use this information to make crucial decisions regarding the operations of their organization. Incorporating information technology into our organizations has become necessary due to the widespread use of computerized systems. Information technology protects valuable business records by creating electronic storage systems. Secure maintenance of client and patient files is essential to business integrity.
Tools, processes, and methodologies are used to collect, process, and present information technology (coding/programming, data communications, data transformation, storage and acquisition, system analysis and design, system control, etc.) and a set of related equipment.
Communication is an integral part of the business world, and information technology provides us with the resources we need to communicate quickly and effectively. IT departments can connect employees to email, video conferencing equipment, and internal chat rooms, so employees always have efficient ways of doing business and communicating.
The accessibility that IT systems provide allows you to work even when you're not physically in the office, increasing productivity. You can work at home or on the go, as they give you remote access to your company's electronic network.
How many types of IT services are there?
IT is a collective term that covers all processes related to computers, the Internet, and other types of technologies. IT services to support enterprises in setting up, managing, and troubleshooting aspects such as network, hardware, software, and cloud computing.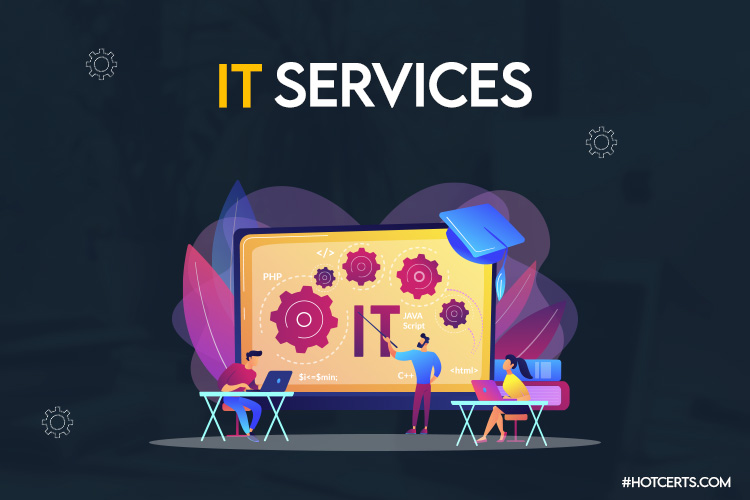 1) Levels of managed IT services:
Most small businesses have a contract for managed IT services. The most basic is the low-level service provided by a purely managed service provider (MSP). These services typically consist of software installations and integration of existing infrastructure with new systems. MSP also provides ongoing support through system monitoring. Remember that MSP will notify you of any signs of security risks or performance issues for low-level services but will not take any action to fix these issues. You also need to develop your own IT plan.
If you need something more fulfilling than the above, consider a medium-sized managed IT service. These are derived from the value-added MSP. In addition to the above, the provider takes action in case of performance issues or security threats. In addition, the provider maintains the system and software and updates the version at release. At this level, you can also receive IT plans. Value-added MSPs often provide scalability plans. This allows you to adapt your services to changing needs as your business grows.
Then there are high levels of managed IT services for greater demand. Get network, data analysis, and communication support in addition to everything included in intermediate-level services. If desired, the provider can provide access to mobile network systems that can be accessed from anywhere. You can also receive detailed plans at this level. Providers inform you of IT industry trends that may be useful to your business and give you the option to change the services you receive. You may also be able to include software as a service (SaaS) subscriptions to help your company. This eliminates the need to store programs and related data locally, freeing up space and improving security.
2) Hardware support:
In particular, several types of IT services make more sense to outsource on-demand. Hardware support usually falls into this category because it involves repairing printers, laptops, and computers. Hardware services are also used to get rid of old equipment. Experts will adequately dispose of the hardware, including formatting the hard disk and erasing all information. Simply deleting the data is ineffective and poses a security risk.
3) Software services:
When outsourcing software services, the provider ensures that the license is always up-to-date and that the company complies with the end-user agreement. By subscribing to these services, you can save money, especially if you have been in business for a long time. For example, providers can find a license they have paid for but have not used.
4) Communications:
Communication covers a wide range of services, from data to voice and video calls. IT providers can configure communication systems, maintain equipment, and even develop personalized programs for the company. Some communication services that you may want to get support for include:
● Video Conference: Robust video conferencing is precious if you have remote employees.
● Voice over Internet Protocol (VoIP): The phone uses an internet connection instead of a telephone line.
● Chatbots: IT providers can create chatbots for their business, allowing you to interact with users who visit your website or send messages on social media while eliminating the need for live chatter. Users may prefer to communicate with chatbots over the phone or email, depending on your target audience.
5) Network Management:
Network services begin with configuring the infrastructure at your location, including server setup, firewall installation, and printer connectivity. Providers may also implement security measures to prevent unauthorized logins and apply two-factor authentication. After this, you can receive continuous maintenance of mobile networks, remote printing services, storage for remote backups, and more. The provider monitors the network, reports anomalous activity, and responds to it in some cases. Additional services include making the necessary upgrades to your network and repairing network-related hardware.
Many enterprises have two networks, an internet connection, and an internal network. It is essential to keep both safe to prevent security breaches. If your employees have remote access to your internal network or are using a payment system, it is vital to monitor your network constantly.
6) On-demand IT:
Instead of using MSP, you can also get service on demand. This allows you to pay as needed instead of a fixed amount each month and is a good option for companies that want to avoid long-term contracts.
7) Cloud Services:
Today, most companies are aware of the potential of the cloud. For example, cloud services allow employees to attend meetings and work on projects anywhere. This is especially useful if you have remote workers or work in multiple locations. Cloud services are also highly scalable, allowing you to pay only for the services you need, even if your needs are constantly changing.
We've already talked about one type of cloud service, SaaS. The other two are Infrastructure as a Service (IaaS) and Platform as a Service (PaaS).
While IaaS provides third-party Infrastructure, PaaS covers computing power and infrastructure aspects such as operating systems and programming languages. It's helpful to have your IT professional decide which cloud service is suitable for your company. The provider then sets up the service, transfers existing data to the cloud, and perhaps trains employees to use the cloud service safely and efficiently. With managed cloud services, providers will continue to provide support. This can include responding to errors to prevent downtime, employee training, system maintenance, and threat monitoring.
8) Cyber security:
Cyber security is the most critical IT service of all. Many of the above services cover some cyber security. Still, if the risk of an attack is exceptionally high (for example, if your company deals with sensitive information), getting this service from an expert is worth it. If you neglect cyber security, several things can happen.
● Data may be at risk
● It may interfere with the operation.
● Your business might lose its trust in your clients
● Ransom demands may require large payments
You need to install anti-malware software that protects you from viruses, spyware, and Trojan horses for better security. Cybercriminals constantly adapt their strategies, so you need to use the latest versions and security patches. Your IT provider will ensure that your system is always up to date.
As employees tend to use their smartphones for work, cyber security is paramount if you have a BYOD policy that is almost universal in small businesses. IT providers use mobile device management to apply security procedures to all devices. This means that only secure devices can access your company's data and applications. In addition, you can remotely erase this data from your device in case of theft or loss.
9) Help desk:
The help desk allows employees to seek help with any IT issues they face, whether related to hardware or software. If you don't have an IT expert in-house, it's helpful to outsource a help desk. However, you can minimize the need for this service by providing your employees with sufficient training on the tools they need to use.
Examples of IT:
If you can use something to deliver, store, or create information for your business, It is a part of IT. Computers, software, network structures, firewalls, fax machines, telephone systems, hard disk farms, wide area networks, security systems, cameras, smart locks, intelligent environment control, data analysis tools, programming languages, audit systems, etc., are all examples of IT.