9
mn read
Critical Types of IT Jobs for You
There is no doubt that IT roles are more demanding and highest paying roles globally. Almost every organization requires at least one IT expert. Therefore, the job ratio for IT roles is more than the other roles. IT or information technology is one of the best degrees worldwide. We all are well-aware that the in this new era, future is all about technology. That is why IT or CS has more importance globally, and many students prefer doing bachelor's degrees in IT.
You can get many critical roles after earning a bachelor's degree in information technology. These roles also include the highest paying and demanding roles. If you want a successful and respectful career in the future, IT is the best option for you. You may be that favorite person in your family whenever someone in your relative has a question about their laptop or trouble with their laptop. You must have get appreciation for solving their problems. It results from how much you love and are interested in technology.
You may have been interested in desktops or laptops since your childhood. You must have been interested in looking inside the CPU (Central Processing Unit) parts and wondering what each piece does. If you're looking to get the potential career options, you might strongly consider converting your interest in technology and computer into a successful career. The good news for you is that there are a lot of IT roles available according to your interest. The only challenge you may face is finding the right career option for yourself.
We're now going to discuss the 9 major IT roles you must be interested in and talk about their significant responsibilities and salaries. Keep reading the article because, in the end, you will not regret reading it.
What is Information Technology (IT)?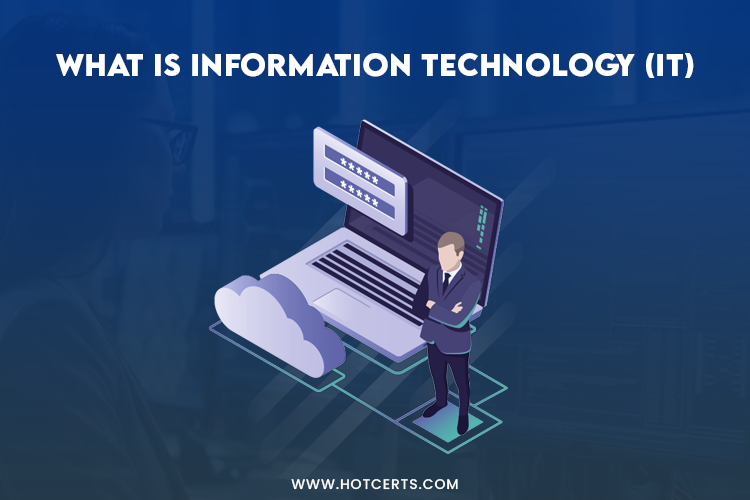 Information technology or IT is a technical industry that includes using computer system and their associated software and hardware infrastructure to solve any business complex problems. It involves maintaining and creating different networking, storage, and processing infrastructure used in many business operations.
Information technology is a broad industry encompassing numerous types of IT roles, such as security analyst, software developer, network administrator, data scientist, and many others. IT experts work to ensure the safety and efficiency of all the company's networks, hardware, and software architecture.
What Do IT Professionals Do?
The significant duties of information technology professionals fluctuate according to their specialization. At the same time, a cyber security expert makes sure that the organization's software and computer network are well protected from any possible threats and malware. The network administrator makes sure that the organization's computer network is well managed and solves any problems of the employees. Software developers make sure to create improved and new applications according to the business needs. All information technology professionals use different software and hardware tools and techniques in their daily work activities.
Here are the 9 critical types of IT jobs for you from which you can select the right after earning some experience in the relevant field:
9 Critical Types of IT Jobs for You to Explore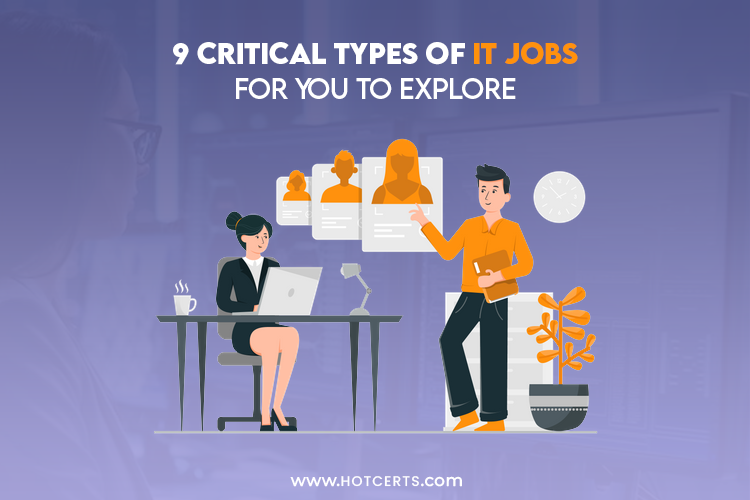 Now that we've covered the basic information about IT professionals and some of their duties let's look into the 9 top critical types of IT jobs that every student must want to explore. Being a professional in every aspect is impossible. Information technology is a broad industry having countless specialties and niches. Here are some of the IT roles you must explore:
Software Developer
In our list of top 9 critical types of IT jobs, software development is one of the best and emerging roles you must explore. If you are a coding lover, this job must be the right fit for you. Software developers (sometimes also refers as quality assurance testers and assurance) are the tech experts tasked with modifying and creating various computer programs. They often utilize a mixture of logical planning and programming skills to write code, managing and guiding how these programs work. There is a massive demand for software developers in almost every organization.
We all know that every business is now complicated unless IT is used in it. Therefore, software developers are in huge demand in every business sector, and employers are offering higher and more competitive pay to them. Some might focus more on composing individual code parts. In contrast, others center their time around the 10,000-foot view work, like planning clients' requirements and deciding the center's usefulness expected to meet them. Moreover, they might invest energy in investigating code and performing routine upkeep of a program. This profession requires a blend of coding abilities, intellectual arranging capacity, cooperation abilities, and imagination.
 Major Responsibilities:
Studying and analyzing customer needs and developing various computer programs that can meet those needs
Studying and commending possible fixes or enhancements to existing systems and programs
Mapping and planning out how one piece of a system or application will function together
Implementing and developing different testing plans to make sure the functionality
Addressing and monitoring app functionality using testing and maintenance
Creating reference documentation
Salary: The average salary of a software developer is about $126,874 per annum.
2. Help Desk Technician
When an employee or PC user has issues with hardware, software, or a network, they have to call on a help desk technician to assist in the relevant problem. A help desk technician has to maintain, troubleshoot, or install software and hardware, help resolve other issues, and resolve networking problems for other organization employees. The title for this job could differ. Assist work area professionals with canning additionally be called assist work area examiners, work area with supporting experts, administration work area experts, and PC support subject matter experts, among a few different titles. All in all, these positions are sometimes alluded to as help work area positions.
Help desk technicians are the guards who distinguish and heighten any prompt issues or security dangers. Contingent upon your necessities, they may likewise investigate more mind-boggling frameworks and applications. Help desk experts may again be known as specialized help trained professionals, support designers, or help work area specialists. Contingent upon the size of your organization, help work area investigators, can work alone or as a component of a group. They usually report to an IT director.
Major Responsibilities:
Have to serve as the first contact with employees who require technical support via an email or phone
Perform different troubleshooting using various diagnostic techniques
Resolve, diagnose, and troubleshoot tech hardware and software issues
Keep a record of the problems and their solutions
Suggest procedures and improvements
Follow-up with clients
Provide required information on different IT services or products
Salary: The average salary of a help desk technician is about $81,260 per annum.
3. Computer Support Specialists
Computer support specialists are at the front leaders or forefront of IT. They help clients with a wide assortment of everyday issues — for instance, inconveniences associated with Wi-Fi, designing another workstation, or investigating problems interfacing with the new printer. Furthermore, they might help organizations and frameworks overseers with more prominent scope programming or equipment rollouts. They are regular issue solvers and solid communicators who investigate and assess PC issues immediately and proficiently, serving a primary job inside any association.
Their primary duty is to provide advice and help to organizations and computer users. They have to support computer networks or give tech assistance directly related to computer users.
Major Responsibilities:
Listening and solving customers' descriptions of computer issues, evaluating their needs, and asking relevant questions
Walking customers through steps to resolve their issues
Repairing and setting up computer devices and equipment
Training other employees on how to use computer software and hardware
Salary: The average salary of computer support technicians is about $55,520 per annum.
4. Network Engineer
While the two of them center around networks, network executives and architects play marginally various parts. Network engineers center around planning and creating networks while managers keep up with them.
Network executives and architects have an unmistakable comprehension of your association's IT construction and organization needs. They keep up with, and screen organizations yet plan them to help future development. Normal obligations incorporate planning and executing physical and remote organizations, guaranteeing execution, and coordinating new advances.
Network experts may likewise be called network administrators or organization modelers. Network designers and directors regularly report to a CIO (Chief Information Officer) or CTO (Chief Technology Officer).
Major Responsibilities:
Making repairs and upgrades to computer networks
Adding users to the computer network
Troubleshooting user problems
Protecting computer and network systems
Training users on software and hardware issues
Salary: The average salary of a network engineer is about $84,812 per annum.
5. Web developer
A web developer is another most demanding and emerging IT role in the era. Web developers maintain and create websites. The role sometimes falls into one category out of three: back-end developers, who work primarily with the technical development of the website. Front-end developers, who are answerable for the look and plan of a site, and website admins, who keep up with and update sites — however large numbers of these jobs might mix, relying upon the association. This profession approaches incredible coding, imagination, and relational abilities to make sites that address clients' issues and associations the same.
Web developerss detect the necessities and requirements of clients for data-based assets. They make the specialized construction for sites and ensure that pages are available and effectively downloadable through various programs and points of interaction.
Web developers structure locales to expand the number of site hits and guests through website improvement. They should have the relational abilities and innovativeness expected to guarantee the site addresses its clients' issues.
Major Responsibilities:
Meeting with the clients and evaluating their website needs
Testing and creating web apps
Writing back-end code for the website
Cooperating with site stakeholder teams
Developing user-friendly, accessible, and functional layouts
Monitoring key performance metrics or site traffic
Salary: The average salary of a web developer is about $70,272 per annum.
6. Database Architects and Administrators
Organizations and associations produce and gather an enormous measure of information to fuel their everyday activities. Data set directors are the experts who help store, secure, and coordinate that information. They are entrusted with building data sets that legitimately store data such that it functions admirably with the frameworks that might get to this data. They may likewise be answerable for information recuperation endeavors and making information reinforcements.
Major Responsibilities:
Recovering lost data and creating back-ups of data
Make sure permissions for the data utilization are up to date and valid
Merging prevailing databases into new databases
Classifying user needs to create new databases
Preserving proper functions of all databases
Salary: The average salary of database architects and administrators is about $98,861 per annum.
7. Computer and Network Systems Administrators
Computer and network system administrators are liable for maintaining a company's computer networks. While a PC network administrator's work usually is more centered around planning an association's organization, an organization framework head is more answerable for the everyday activity of those organizations and guaranteeing they're filling in as expected. Network framework heads might give direct client support or oversee PC support trained professionals. This job is, in many cases, a subsequent coherent stage in the profession stepping stool for client support subject matter experts, and their work centers typically around a more considerable scope or more mind-boggling network issues.
Major Responsibilities:
Maintaining different IT operations like application, hardware, software, network security, and email systems tools
Maintain and oversee the daily operations of a company's computer networks
Determine software and hardware needs
Make required updates and maintain the entire network's security
Salary: The average salary of computer and network systems administrators is about $97,914 per annum.
8. IT Project Managers
IT project managers coordinate the exertions of the team of developer/programmers analysts to finalize different projects. IT project managers also analyze the tech issues for their client's organization or company. They propose additional tips and solutions to improve productivity. Critical thinking abilities and a piece of comprehensive information on innovation and PC frameworks help software engineering majors succeed in this job. Solid relational skills are expected to unravel clients' requirements and pass technical details on to engineers.
They overcome any barrier between vision and execution, separating significant level systems into important stages. IT project chiefs coordinate across offices to guarantee projects line up with business objectives. They regulate each viewpoint from spending plan and degree to task the board.
Notwithstanding project the executive's abilities and confirmations, IT project directors need to comprehend specialized stages and approaches applicable to your association. IT project directors work intimately with improvement groups and business supervisors to finish project prerequisites from beginning to end. They ordinarily work under a supervisor or chief.
Major Responsibilities:
Manage IT and computer systems
Evaluate, control, organize, and plan electronic and IT data operations
Manage the entire IT staff by coaching, training, and recruiting employees
Communicating the job expectations and assessing their performance
Make sure security of data, backup system, and network access
Salary: The average salary of an IT manager is about $151,150 per annum.
9. Information Security Analysts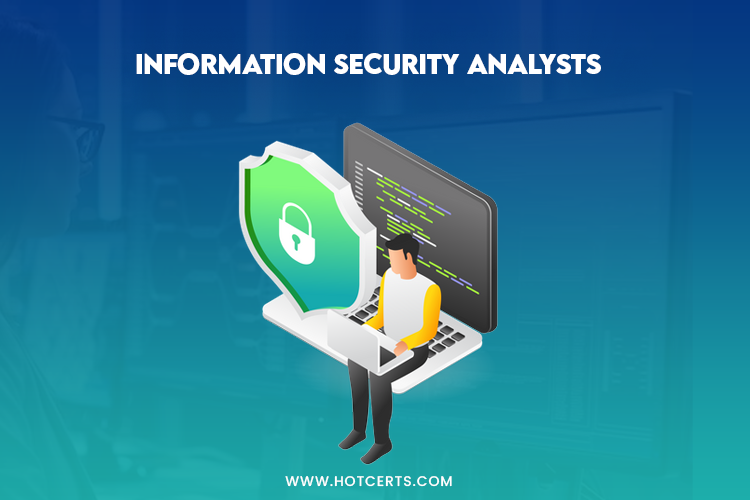 A continually developing and essential position, a data security examiner shields an association's organization and frameworks from security breaks and the expected aftermath. These examiners work to make catastrophe recuperation plans, lead appraisals of safety dangers, make strategies helping likely risks, and watch out for new and arising hazards in the business. This job requires broad information on how equipment and programming connection points, their possible shortcomings, and the capacity to drive proactive change inside an association to address data security concerns.
Major Responsibilities:
Observing and monitoring for possible security breaches or potential weakness
Supervising the organization's implementation of defensive measures like antivirus programs and firewalls
Testing for possible vulnerabilities in computer systems
Creating documentation for any security breaches and delivering proper guidance on the possible solutions for these breaches
Observing security best practices within the organization and developing the training documentation
Salary: The average salary of information system analysts is about $92,448 per annum.
Conclusion
Now when you must have a clear idea about what you can do after earning your bachelor's degree in information technology. IT is a broad field with more career growth rate than the other roles. Pursuing your career in the information technology sector will be the best step for you. There are plenty of different roles also present in IT. However, the above-mentioned critical roles are among the best and highest-paying roles globally. If you're still having any problems with your career in IT, comment below your queries to get professional career consultation.