8
mn read
How to Become a Data Scientist in 2022-A Perfect Guide:
Data science, no doubt, is one of the best fields of computer science. Many organizations are offering the highest-paying jobs to data scientists. The job ratio for these professionals is higher than ever. We've witnessed more increased demand for data scientists from many organizations in the past few years. Handling enormous data for any organization is not an easy task.
Moreover, the privacy of these data is very critical. Data scientists or information analysts come forward and give your organization a better solution for data handling. The data scientist job has become one of the leading and highest paying jobs globally.
However, becoming a professional data scientist is not an easy task. Many candidates do not even know how to become data scientists, even in 2022. Companies now have a tremendous amount of data on their customers and handling this amount of data is impossible for companies to manage and make it safe from hackers. That is why a leading job for this task has urged "Data Scientist" or "Information Analysts." These data scientists are now paid well among all the other jobs available. The highest record salary of a data scientist is about $186,855 per annum.
We will discuss the essential factors that will show you how to become a data scientist in 2022. Keep reading the article to know some essential tips to become a professional data scientist.
Who are Data Scientists?
Data scientists are huge data analyzers who gather enormous structured and unstructured data sets. The prominent role of a data scientist includes combining computer science, mathematics, and statistics. Data scientists process, model, and analyze vast amounts of data, then infer the results to develop tortious plans for many organizations. Data scientists are methodical and analytical professionals who use their skills and expertise in social science and information technology to search for trends and manage data.
Data scientists mainly utilize industry knowledge to uncover and solve business challenges. The job of a data scientist is not easy as it looks. They have a massive responsibility for handling organizations' extensive structured and unstructured data. A data scientist analyzes and collects organizational data to reach a better solution to make that organization structured and understandable.
Why Become a Data Scientist?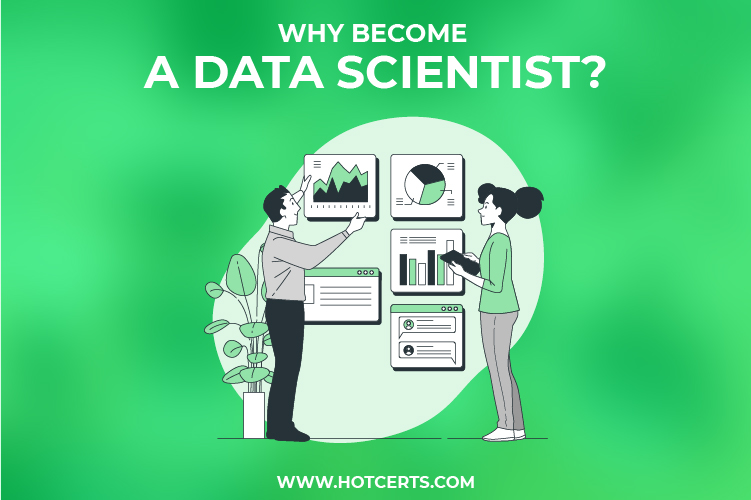 Becoming an expert data scientist is not the easiest career path. There are many fields of data science that confuse a student to choose the right area. For some experts, information science is essential to their more extensive work. For example, research experts in physical science, cognitive science, stargazing, or any logical discipline besides information science are vital for their examinations.
There's a second, arising bunch that we could freely term 'vocation information researchers. It depicts people who have decided to pursue a career effectively. Not because it is part of their broader work, but because they like to work with information and critical thinking and need to develop a profession that would enable business or industry.
What kind of Skills Are Required to Become Data Scientist?
Here are some skills which are required to become a professional data scientist:
Programming Skills
ML (Machine Learning) techniques
Cloud management tools
Big data platforms
Risk analysis
Software Engineering Skills
Keen knowledge of Mathematics and Statistics
Effective communication
Data Reporting and visualization
Data Mining, Munging, and Cleaning
Data structures and warehousing
Significant Steps For Becoming a Data Scientist in 2022
Data scientists are those professionals who are answerable or responsible for dealing with massive data and assist their workers in knowing the best and correct answers. Here are some professional tips and guides from which you can become an experienced data scientist.
Acquire at least an Undergraduate Degree in Data Science
For becoming a professional and highest-paid data scientist, you will need to get at least 16 years of education in data science or a bachelor's degree in data science, IT (Information Technology), or Computer Science. After acquiring the degree, you must pursue any data scientist certification to become more professional. Most organizations also demand at least a master's degree in data science.
However not feasible, it is undeniably challenging to achieve all of the abilities expected for a specific occupation without acquiring some vital degree. It tends to be an expert, lone wolves, or even a Ph.D. degree. A few degrees that are gainful to information researchers are:
Applied Mathematics
Mathematics
Physics
Data Management
Computer Science
Information Technology
Statistics
Economics
Software Engineering
Choose the Right Area of Interest
There are a lot of different paths in data science that assemble a professional data scientist career. They are adept for packing positions like that of an information perception trained professional, the board investigator, and statistical surveying examiner. Be that as it may, some get particular fixations through ace degree programs, for example, information designing and AI.
Some seek a further doctorate certificate in fixations to any semblance of business arrangements and endeavor science examination. Consequently, it's vital to pick an area of interest and earn a critical college education. It is absolutely on you to select the accurate location of interest to make a successful career.
Whether you're now in an undergrad program or need to additional your vocation in information science, it's essential to consider the issues you're hoping to tackle utilizing information. Hotcerts suggests examining some genuine instances of information science or data science at work. It's not primarily to have the required tools for investigating the report, however, to likewise take care of business in real datasets, and comprehend how to push them ahead."
Pursue the Right Data Science Skills
If you don't have to some extent, previous work experience in data management, you still have the chance to become a professional data scientist. In that case, you must develop the right data science skills and background to further work as a data scientist. Information Scientist is an undeniable level position; before you arrive at that level of specialization, you'll need to foster a broad base of information in a related field. That could be arithmetic, designing, insights, information investigation, programming, or IT-a. Few Data Scientists have even begun money and baseball exploring.
Any field you start with ought to incorporate the essentials: Python, Excel, and SQL. These abilities will be fundamental for working with and coordinating crude information. It doesn't damage being comfortable with Tableau, a device you'll frequently utilize to make representations. Look out for valuable chances to assist you with beginning reasoning like a Data Scientist; the more this foundation allows you to work with information, the more it will help you with the subsequent step.
Acknowledge Data Science Fundamentals
A data science certification or course can be the best way to build or get on data science fundamentals. It would help if you hoped to learn fundamentals like gathering and storing information, examining and displaying information, and imagining and introducing information involving each device in the information science tool stash, including particular applications like perception programs Tableau and PowerBI-among others.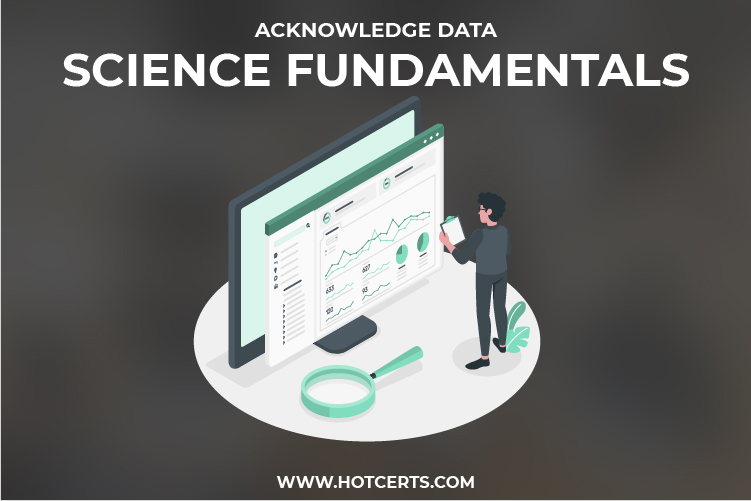 Before finishing your preparation, you ought to have the option to utilize Python and R to assemble models that examine the conduct and anticipate questions and have the opportunity to repackage information into easy-to-understand structures.
Many work postings list postgraduate education as a prerequisite for Data Science positions. Some of the time, that is non-debatable. However, as the request surpasses supply, the confirmation is progressively in the pudding. That is, proof of the essential abilities frequently offsets simple credentials. What's generally necessary to employ supervisors is a capacity to show the dominance of the subject here and there, and it's inevitably perceived that this exhibition doesn't need to follow conventional channels.
Learn Essential Programming Languages for Data Scientists To become a professional data scientist. The next step is to acquire essential programming skills. The data scientist job strongly relies on various dedicated programs and tools created precisely for data analyzing, managing, cleaning, modeling, and analysis. Moreover, data scientists have to be acquainted with arithmetic or statistical programming languages such as R, Hive, or Python and structured query languages like SQL.
One of a Data Scientist's most essential tools is RStudio Server, which upholds an improvement climate for working with R on a server. Open-source Jupyter Notebook is another famous application involving factual displaying, information, and AI capacities. From there, the cloud is the limit.
Data science progressively includes AI (Artificial Intelligence) – devices that apply manufactured reasoning to enable frameworks to learn and become more precise without being unequivocally customized. The instruments utilized for AI generally depend on the application – whether you're preparing the PC to recognize pictures, for instance, or concentrate patterns from online entertainment posts. Contingent upon their goals, Data Scientists could look over a broad scope of apparatuses, including h2o.ai, TensorFlow, Accord.Net, and Apache Mahout.
Make Yourself Requisite
There is a massive petition for data scientists but never forget that all data scientists are not good or experienced data scientists. You have to come out from the crowd in front and make yourself requisite and indispensable. The more specialty abilities you can get, the more you can customize your job, and the better the proposals or ideas you can give. It will increment how imperative you are. The more critical an association observes you, the more they will require your abilities and the more cash you'll eventually have the option to acquire.
Raise Your Profile
A professional project that you pull off alone can be an extraordinary method for showing your capacities and conspiracy potential recruiting supervisors. Pick something that you're genuinely fascinated by, pose an inquiry about it, and attempt to respond to that inquiry with information. You ought to likewise consider showing your work on GitHub as referenced above.
Record your excursion and present your discoveries delightfully envisioned with a reasonable clarification of your interaction, featuring your specialized abilities and imagination. Your information should be joined by a convincing story that exhibits the issues you've addressed, featuring your interaction and the imaginative advances you've taken-to guarantee a business gets your legitimacy.
Start Applying to Relevant Data Scientist Jobs
After getting a grip on the steps mentioned above, you must make a portfolio by working in small and big industries. After getting the required skills, you should start looking for the right data science job that fits you. Once you've got your bachelor's or master's degree in data science and academic requisites, it is the perfect time to get a role as a junior data scientist and learn relevant skills.
After getting the fundamental abilities, individuals frequently proceed to have some expertise in different subfields, like Data Engineers, Data Analysts, or Machine Learning Engineers, among numerous others. Figure out what an organization focuses on and what they're dealing with, affirm that it suits your assets, objectives, and what you see yourself doing down the line.
After getting the right job, you must gain experience and add it to your portfolio. After getting at least a two-year experience as a data scientist, you will be ready to apply for a professional data scientist vacancy. Many organizations look for experienced data scientists, and you will be the best choice for them. Follow up the above steps and make yourself the highest-paid and most professional data scientist!
Conclusion
Indeed, the data scientist is one of the leading careers for any individual interested in technology. The data science field is growing exceptionally, and it has become one of the top careers now. After getting the required skills and experience, you will become the most in-demand and highest-paid employee. Always remember that a data science job is not for anyone. Those who love technology and have a prior background in data science, computer science, or information technology can quickly become professional data scientists. It is the perfect phase and time for you to become a data scientist as there are is still a lack of data scientists, and more organizations are demanding information analysts or data scientists.
Do you still have any suspicion about the data scientist role? Do you still need guidance to become a data scientist? Comment below if you have such queries. Hotcerts professional team will collaborate with you and guide you about your data scientist career!