8
mn read
Who is a Database Administrator? Explaining this Data-Driven Career in 2022
Data is one of the critical parts of any organization. Regularly managing information is a very complex task for any organization. Today many organizations are producing trillions of bytes of data per day. Every organization can struggle in handling this amount of data. In organizations, there is a vast network of computers installed in every department to manage, configure, and save the daily producing enormous amount of data.
In that case, database administrators come forward to maintain and upkeep an organization's databases. These administrators are responsible for conserving and preserving any company's data. Database administrator installs new features, handles security problems, and troubleshoots errors as required. Many organizations are now looking for passionate and emerging professional database administrators to fill up the seats and take their colossal amount of databases. The job ratio for DBA (Database Administrators) is higher than in the other fields.
Most DBA work for companies or firms that contain a vast amount of data. This DBA is also required in hospitals, government organizations, and prominent universities, not only in specific organizations. The job of DBA (Database Administrator) is very worthwhile, but it is also challenging because it needs extreme concentration and long hours. A database administrator career is not easy as it looks because it requires long hours and extensive problem-solving skills. If you are fully passionate and want to dedicate yourself entirely to this career, these job prospects are brighter.
We will discuss the career path and essential points of database administrators. Keep reading the article to know more about this data-driven career in 2022.
Who is a Database Administrator?
Database administrators or DBA are mainly responsible for maintaining, managing, and configuring the enormous databases of firms. They must ensure that the organization's data is successfully backed-up and secure. They also have to oversee and monitor the overall performance of their complex database. DBA maintains and develops such databases companionable to their firm's needs.
This professional DBA upkeeps and monitors database troubleshooting, security, storage, and updates. They are also involved in improving, maintaining, implementing, installing, managing, and configuring the overall performance of data stores and databases. For instance, in a bank, the database administrator is the person who makes sure that the bank teller has fast and easy access to all of your information and can effortlessly access your bank balance and daily transaction history.
What Does a DBA or Database Administrator Do?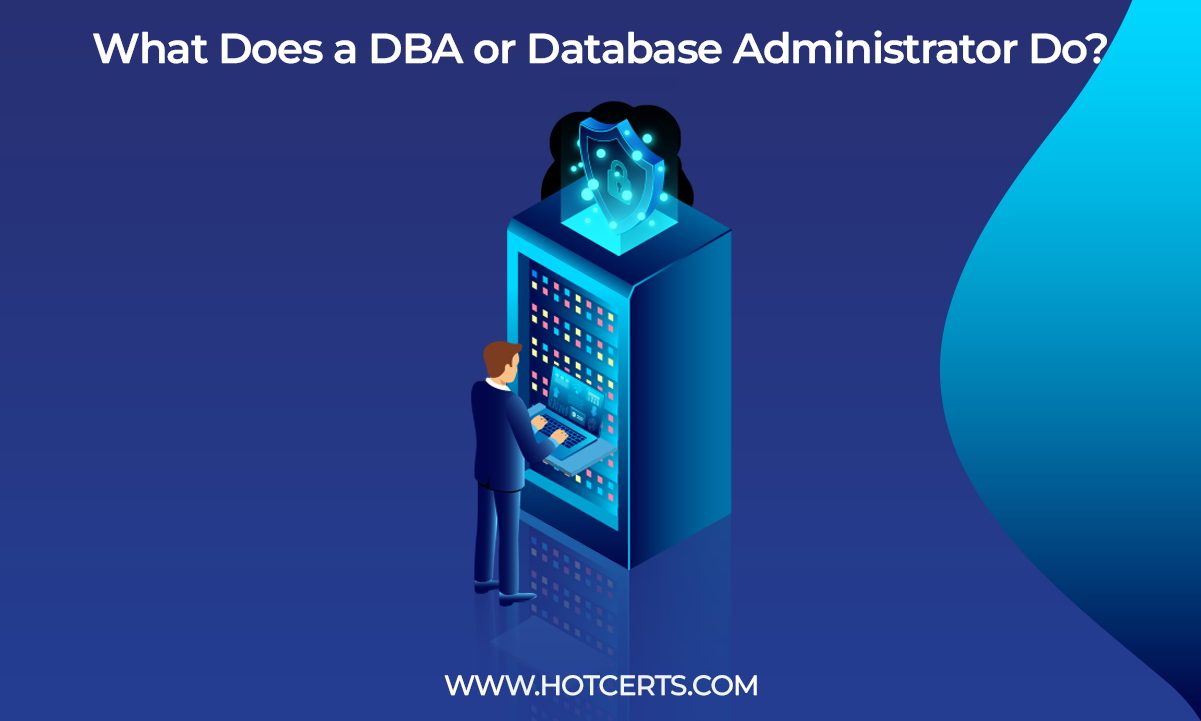 The DBA protects and maintains complex information and delivers access to essential datasets for govt. Bodies, institutions, and companies. A typical day for DBA begins with exploring emails and performing any required tasks in the emails or answering questions physically. Then these database administrator's day involves managing and monitoring massive databases, ensuring that the databases are running efficiently without trouble. Then the DBA back up the critical information when required, examining new features before executing them publicly.
The significant role of the DBA includes reviewing logs to watch if any complex errors or other faults are happening on the network server, working with new developers when developing new features into the database system, etc.
Each department and company has its unique working environment, and the DBA works to meet its specific needs. While most organizations don't anticipate that they should engage their data set executives with each undertaking, they will help where required, most frequently with advancement.
Database Administrators may likewise prepare new workers on the most proficient method to utilize existing highlights or programming and show them best practices for using the data set to guarantee it is continuously performing great. Past security controls additionally assume a significant part in making back-ups and other safeguard measures to prepare things in case of a disappointment or blackout.
It also takes a great deal of potential processing ability to work with information on the scale numerous associations use, so DBA can work at making data sets that work as proficiently as expected. It can remember testing desired alterations to existing information bases for requests to develop proficiency further.
Primary Roles and Responsibilities of a DBA
A DBA does expect various jobs and obligations inside the IT division, including information base frameworks and applications. While taking on another DBMS, the DBA is answerable for planning, carrying out, and keeping up with the data set framework. Frequently, this incorporates introducing the DBMS and setting up the IT foundation to permit applications to get to data sets.
The DBA likewise should lay out arrangements and strategies relating to the administration, security, support, and utilization of the information base administration framework. The DBA bunch makes preparing materials and trains representatives in the legitimate use and access of the data set administration framework.
Here are the main points of the primary responsibilities and roles of a DBA includes:
A DBA is a technical professional liable for maintaining, implementing, and designing a DBMS (Database Management System).
Upgrading and installing the DB sever and different application tools
Allocating the DB or database system's requirements, i.e., network, disk space, memory requirements, etc.
Making networks more effective by making sure that the data is accessible and well-organized
An individual in this calling must know how to investigate data sets on servers under their charge. Data set directors should design equipment and programming while at the same time dissecting absconds revealed by end clients. They likewise should have the option to prepare new IT staff.
DBA might have to get the fundamentals of SQL and know about new information base administration frameworks, for example, Microsoft's SQL and IBM's DB2 Express-C. They should know how to design these frameworks, what accessible apparatuses, and when they should utilize them. Information base heads might have to understand how to set up client consent and arrange firewalls.
DBA should keep their insight into the business current by taking online classes, taking an interest in professional associations, and going to meetings. At long last, since this calling requires a specialist to deal with the organization's information stockpiling, reinforcements, and catastrophe recuperation designs, a DBA should discuss well with frameworks or organization architects and task administrators.
A DBA needs comprehension of equipment, working frameworks, and Internet advancements. Extraordinary relational abilities are indispensable because they report to specialized and business staff. Stepping up is fundamental since no two days are ever something very similar.
Creating a recovery and backup plan for the DBMS and frequently testing the possible backups to ensure usability.
Essential Skills Needed to Become a Database Administrator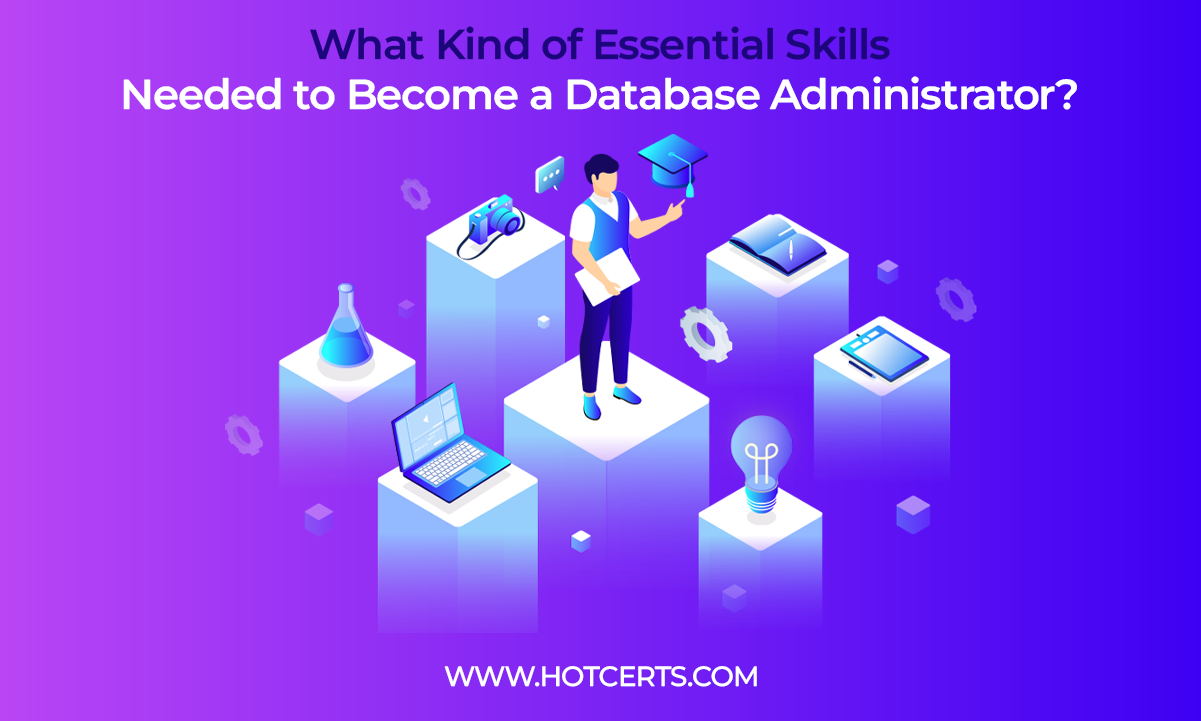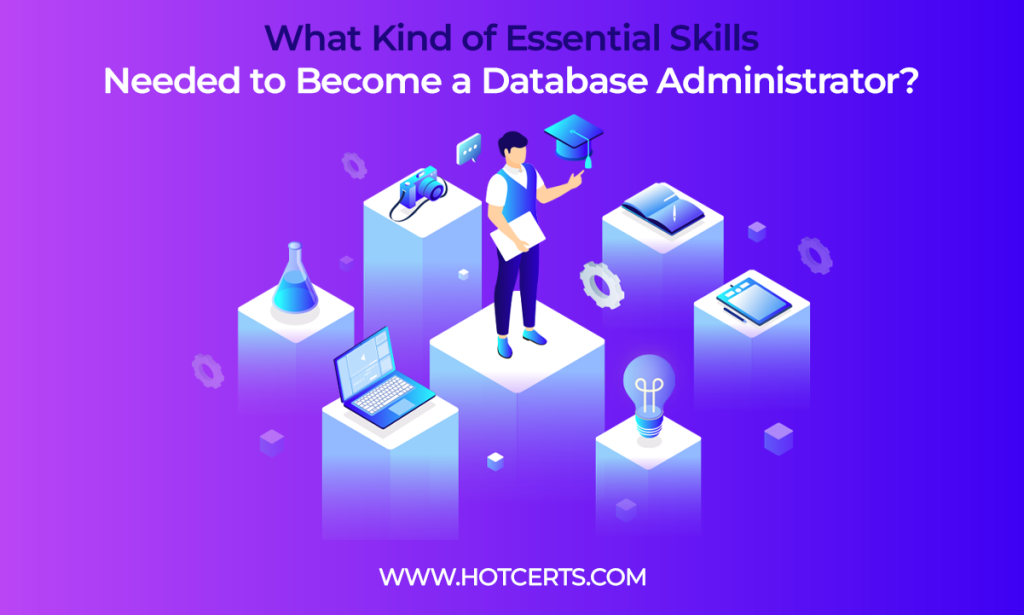 There are essential skills required to become a successful database administrator which you must adopt before applying for a DBA certification or job. Here are some skills a DBA needs to stand out among many databases administers:
Technical Skills
SQL skills
Teradata DBA
Linux
Python
Performance Tuning
Data Warehousing
Oracle
SQL Server
ETL – Extraction Transformation and Loading
DBAs need to have a comprehensive perspective on the data they're sorting out and a fastidious focal point for mistakes and lost information. Likewise, they should set complex critical thinking and decisive reasoning to pursue choices that will help the data set and company.
Convenient Skills in Demand
Communication
Troubleshooting
Planning
Research
Organizational Skills
MS Excel
Writing
Problem-solving
Teamwork
Digital-Oriented Skills
To become a successful DBA, you must need an exciting mixture of programming and technical database skills, including people skills. The skills mentioned above are necessary for you to become a successful database administrator in the future.
Different Types of Database Administrators
There are various types of database administrators exist now. Each type has its unique characteristics and job roles. The most well-known and common type of database administrator is the general-purpose DBA. A general-purpose DBA performs administration in the organizations and other data-related works.
In any case, it is entirely expected for DBAs to zero in on unambiguous issue spaces. For instance, a DBA might zero together on a data set plan, maybe broken into the intelligent plan and an actual plan. A few DBAs might spend significant time building frameworks. In contrast, different DBAs might zero in on keeping up with and tuning existing frameworks or on slender areas of data set administration and organization.
DBA obligations are commonly divided into discrete work types inside more prominent associations. The essential sorts of DBA, other than universally valid, incorporate framework DBA, information base modeler, data set examiner, application DBA, task-arranged DBA, execution investigator, information distribution center overseer, and cloud DBA. The types of DBA include:
System DBA
The leading role of system DBA focuses on business and technical issues. The system database administrator is experienced in the arcane technical fine points of how a DB or database is modified, installed, and configured. System DBA is hardly involved with the actual application and DB implementation. They also get involved in app tuning when OS parameters need to be altered. Typical roles of a system DBA include:
Make sure that suitable memory and storage are available for DBMS (Database Management System)
Turing the OS (Operating System), transaction, and network processors to get work with the DBMS
Installing and implementing new features and applying fixes
Tuning and setting suitable system parameters
Database Analyst
Now and again, junior DBAs are alluded to as data set examiners. A data set expert might play out a job like the information base planner. A data set expert can likewise be simply one more term that organizations use rather than data set head.
Task-Oriented Database Administrators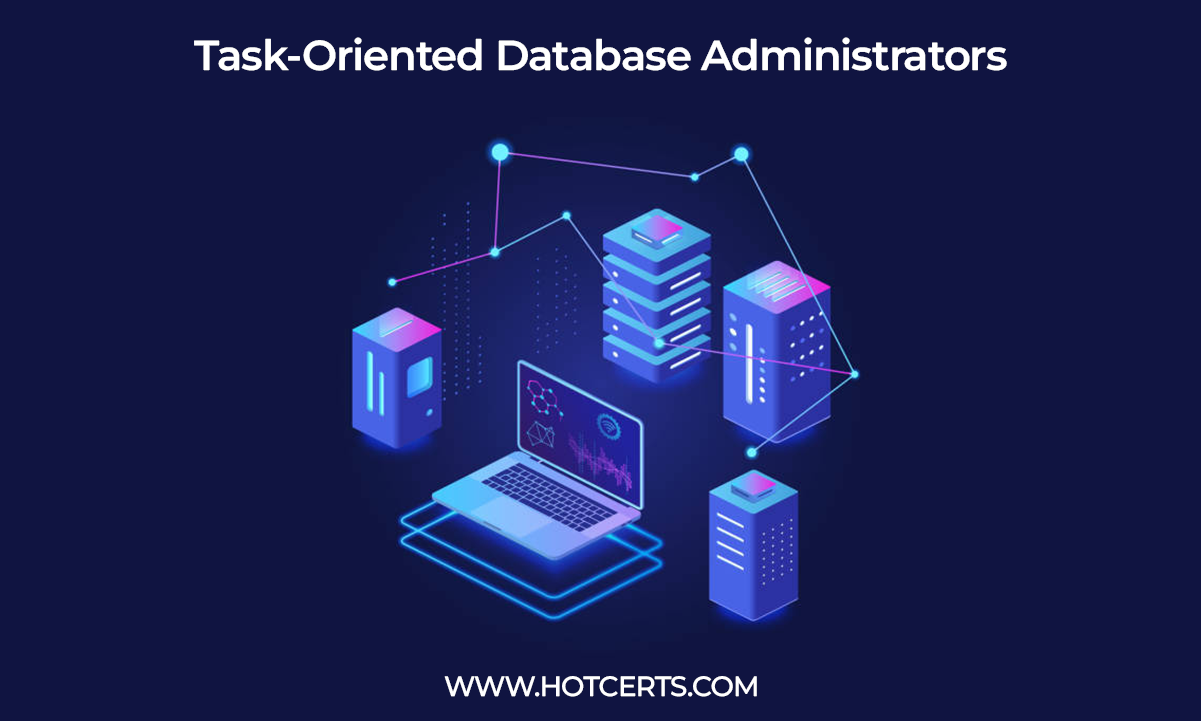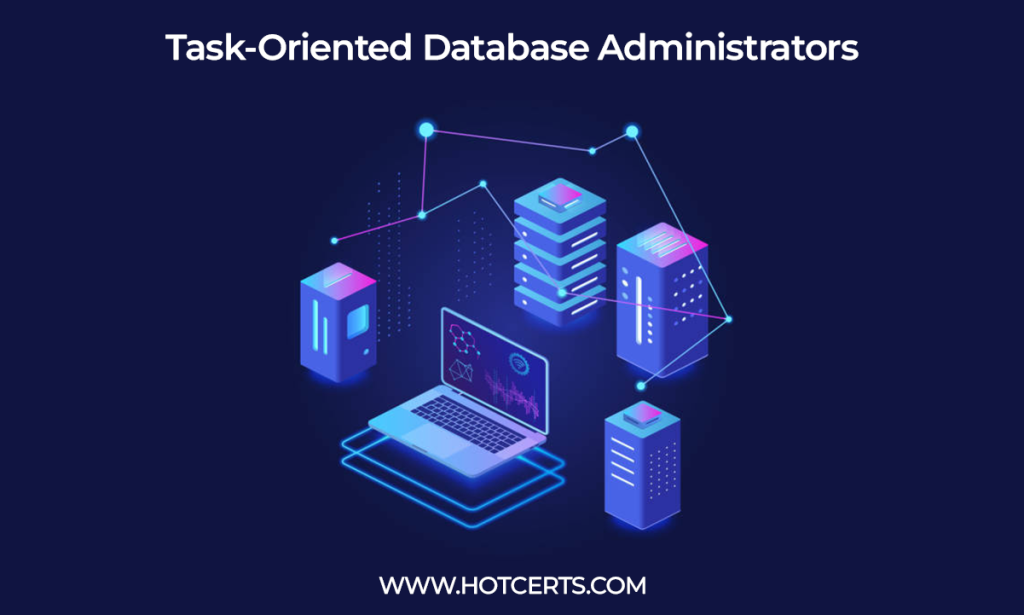 These are particular DBAs that pay attention to a specific authoritative assignment. Task-situated DBAs are unprecedented beyond huge IT shops. One image of an undertaking-focused DBA is a reinforcement and recuperation DBA. That guarantees the association's information bases are recoverable, including making contingency plans, building and testing reinforcement scripts, testing restoration scripts, and driving restoration assignments when required. The reinforcement and recuperation DBA likewise assists in building and testing calamity emergency courses of action for the association's data sets.
Cloud Database Administrator
Cloud DBA role has become most popular in 2022 as many organizations have migrated all of their workloads to the cloud platform. Therefore, they need such DBA who have proficiency in managing cloud storage. A cloud database administrator performs various tasks as a general-purpose database administrator.
The cloud DBA (Database Administrator) must acknowledge the services the cloud provider offers, i.e., security and backup to implement DBMS in the cloud. Cloud DBAs should know about inactivity, adaptation to non-critical failure, and cost administration. The last option issues are significant because adding information or responsibility to a cloud execution can fundamentally make costs rise.
It isn't a thorough rundown of the relative multitude of sorts of DBAs. There is anything but a solitary, primary occupation with the title DBA that fits all IT experts working with DBA in their title.
Database Architect
The database architect mainly works on the implementation and design of new databases. They design new or fresh databases and structures for existing apps. The data set draftsman plans new information bases and constructions for new or existing applications and is seldom engaged with upkeep and tuning laid out data sets and applications.
The significant roles of a database architect include:
Implementing backup and recovery plans for new databases
Modeling logical data
Analyzing data access needs to ensure reliable SQL access and the most delicate DB design.
Defining or translating the logical data models into a physical data design
Conclusion
A database administration career is not as easy as it looks. You need to have many hard and soft skills to become a successful DBA. If you want to start your career as a DBA, you must earn at least a bachelor's degree in the relevant subject and get hands-on experience in database handling. If your human interaction and hard skills are your specialties, then this DBA career is the best for you. There are also various certifications available that can help you boost your resume. Comment below if you have any questions about this data-driven career. Our professional team will answer and assist you accordingly!