7
mn read
Cisco Certification: The 4 Levels of Cisco Certifications And Finding the Ideal Cisco Path
What is the Cisco Certification?
Cisco Systems Inc. specializes in networking and transmissions products and services. The company is best known for its business routing and switching products worldwide. Cisco certification is a course offered by the company to guarantee that IT professionals have the skills and understanding to support Cisco products. There are different levels of Cisco certification. Each group provides one or more credentials. Usually, you need to pass one or more certification exams to obtain certificates.
Obtaining a technical certification requires a significant investment in both time and cost and offers many options. Cisco certification is no exception. There are many routes to choose from. Cisco independently offers several diverse certifications depending on your professional interests and abilities, making intelligent choices challenging but one of the critical decisions you can make for your technology career.
What do Cisco Certified Professionals Do?
Cisco-certified professionals install, maintain, and troubleshoot branches in large/small or enterprise networks. These experts also implement basic network security protocols. Cisco certified professionals usually do the following:
Leading the creation and evolution of enterprise architecture
Technology and product selection
Lead the planning of enterprise network architecture
Analyze technology and industry market trends
Establish management principles for enterprise networks
Identifying organizational resource needs
So how do you get the Cisco Certification? This post focuses on Cisco's routing and switching (R & S) options. But before we descend into the details, it is essential to remember that it is necessary to evaluate your goals from the beginning, no matter which path you choose.
What exactly do you want to achieve?
What are your current responsibilities?
What are you desire to do shortly?
Which skill do you want to verify?
Answering these questions without hesitation gives you the foundation you need to make the best possible decisions.
CCT certification
Cisco Certified Technician (CCT) is one of the two entry-level certifications offered by Cisco; the other is CCENT, which we will discuss next. This Cisco certification provides a level of knowledge that helps centralized network engineers work with remote engineers and allows them to focus on a particular task.
Who needs to get CCT certification?
CCT certification focuses primarily on individuals planning or supporting Cisco devices, usually with higher-level engineering support. The primary target audience is those with technical experience who want to start networking. Common positions may include onsite support technicians, field support technicians, or remote network support.
Which skills does CCT certification verify?
This certification provides a solid knowledge of Cisco / Networking before moving to the next CCENT / CCNA certification level. The skills essential to pass this exam are divided into four domains:
Identifying Cisco equipment and related hardware.
Explaining how to operate Cisco IOS Software.
General networking knowledge.
Service-related knowledge.
What ought I to know before taking the CCT exam?
To obtain CCT (R & S) certification, you must pass the Certified Cisco Certified Technician Routing and Switching (640-692) exam. While this certification focuses on operational knowledge (the CCT level deals with how equipment is identified and operated), the next level of CCENT and CCNA certifications is why and how to configure something in a particular way.
What benefits does CCT certification bring to the team?
IT managers need team members to obtain CCT certification for several reasons. First, this certification is a requirement for all businesses that work directly with Cisco as a support provider for TAC operations. Second, CCT certification allows beginner-level employees with little networking experience to become familiar with Cisco's essential equipment and procedures.
CCNA Certified
Cisco Certified Entry Networking Technician (CCENT) is the second Cisco Certified Entry Level Certification. For CCENT purposes, you need to understand various networks' basics and configuration commands. The Cisco Certified Network Associate (CCNA) contains the knowledge gained with CCENT, adding more complexity and depth of functionality to CCENT. CNAs are usually junior-level network engineers who work informedly under the guidance of experienced engineers.
Who needs to get CCNA certification?
CCENT is considerable if you want to do something other than fieldwork (CCT). It allows you to support, configure, and troubleshoot your network yourself. Candidates for CCNA certification are usually divided into two different groups. A group with no initial networking experience and a group with a solid foundation of networking experience but without previous certification.
Which skills does the CCNA certification verify?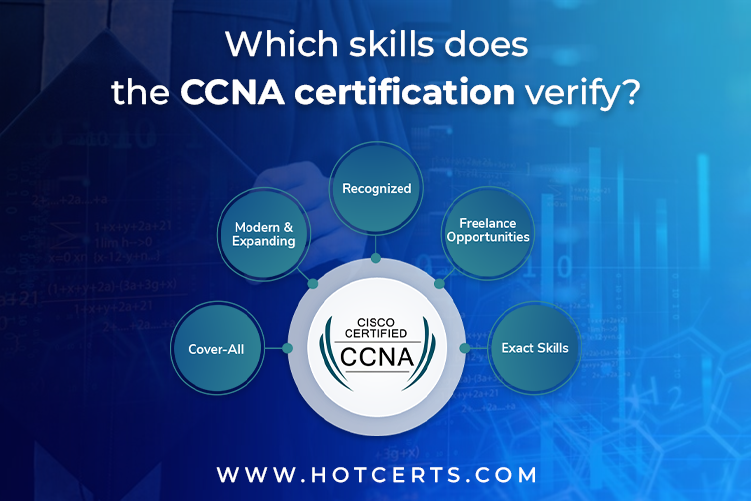 The CCNA certification is built on the core knowledge covered by CCENT and is added by covering the CCENT material in more detail and adding some advanced topics. CCENT and CCNA certifications are used as benchmark certifications for various companies to determine the minimum level of knowledge about Cisco networking. The skills required to pass CCENT are divided into five domains: Network Fundamentals, LAN Switching Fundamentals, Routing Fundamentals, Infrastructure Services, and Infrastructure Maintenance.
What do I Want to know before taking the CCNA exam?
To earn CCENT certification, you must study and pass the Interconnecting Cisco Networking Devices Part 1 (ICND1) (100-105) exam. CCENT (ICND1) has a significant coverage based on routing and switching networking (compared to CCT). It also describes how to configure different devices and how they behave after they are adequately configured.
To obtain CCNA (R & S) certification, you must pass both the ICND1 (100-105) and ICND2 (200-105) exams or a single Cisco Certified Networking Associate (CCNA) (200-125) exam. The skills required to pass the ICND2 exam are divided into five domains: LAN switching technology, routing technology, WAN technology, infrastructure services, and infrastructure maintenance.
What benefits does CCNA certification bring to the team?
IT managers need team members to obtain CCNA certification for at least two significant reasons. First, it allows you to verify their knowledge. Employees who successfully achieve CCNA prove familiar with many Cisco's technologies and features. Second, it will enable employees to track and build on their progress in the networking arena.
CCNP certification
Cisco Certified Network Professional is the next level of CCNA and requires a deeper understanding of many different technologies and features. It is expected at the CCNA level. CCNP typically acts as a senior-level network engineer in a variety of environments. CCNP can act as a team leader to guide the tasks of junior-level network engineers or as a solo engineer working on a variety of discrete technologies/devices.
Who needs to get CCNP certification?
Like most people considering getting a CCNP, they have an existing CCNA and want to expand their knowledge of various routing and switching technologies. This certified person typically holds the title of Network Engineer, Senior Network Engineer, or Systems Engineer and is responsible for configuring, supporting, and troubleshooting many different devices, protocols, and features.
Which skills does CCNP certification verify?
The skills essential to pass this CCNP exam are divided into six domains: Network Principal, Layer 2 Technology, Infrastructure Security, Layer 3 Technology, VPN Technology, and Infrastructure Services.
What do I Want to know before taking the CCNP exam?
Completing a CCNP is often considered more complicated than a CCIE written exam due to the depth of knowledge required for each technology. At CCNP, you need to pass three exams:
Implementation of Cisco IP Routing (ROUTE)
Troubleshooting and upkeep of the Cisco IP Network (TSHOOT)
Cisco IP Switched Network (SWITCH) implementation
Each pivot on a specific subset of knowledge makes it possible to emphasize CCNP training
What benefits does CCNP certification bring to the team?
IT managers need team members to obtain CCNP certification for several reasons:
As with the CCNA, you can verify the skills of technical team members
As with most required certifications, employees can get a sense of accomplishment
It guarantees an additional level of technical knowledge within your team
The depth added between the previous certification and CCNP is considerable and will be helpful for future projects.
CCIE Certification
The Cisco Certified Internetwork Expert (CCIE) is built on goals learned at the CCNP level, adding some depth to certain features and covering a variety of features not covered in great detail in previous tracks. increase. Candidates looking to be the most knowledgeable about their goals will be looking for a CCIE. This journey is costly, and each candidate must determine from the plans whether having CCIE credentials will enable them to attain their specific career goals.
Who needs to get a CCIE certification?
The CCIE is the highest level in Cisco's Routing and Switching Pyramid and is awarded to those with proven professional-level knowledge of various features and devices. From a high-level perspective, CCIE certification adopts the requirements required to obtain a CCNP, adding depth to coverage and, in some cases, width. CCIEs typically have senior network engineer, Network Architect, and principal network engineer positions.
Which skills does the CCIE certification verify?
The CCIE itself is intended to measure the individual knowledge level of a particular subject listed in the objectives. As Cisco defines, the CCIE is someone who has the necessary skills to plan, test, deploy, configure, maintain, and troubleshoot Cisco network solutions.
What do I Want to know before taking the CCIE exam?
CCIE differs from CCNP because it has no prerequisites. To earn a CCIE, you must pass the CCIE Routing and Switching Written Exam (400-101) and the CCIE Routing and Switching Lab Exam. The CCIE Written Exam is a supervised computer-based version and the CCT, CCNA, and CCNP. However, the CCIE lab is practical, and you will need to move to a Cisco lab testing facility.
What benefits does CCIE certification bring to the team?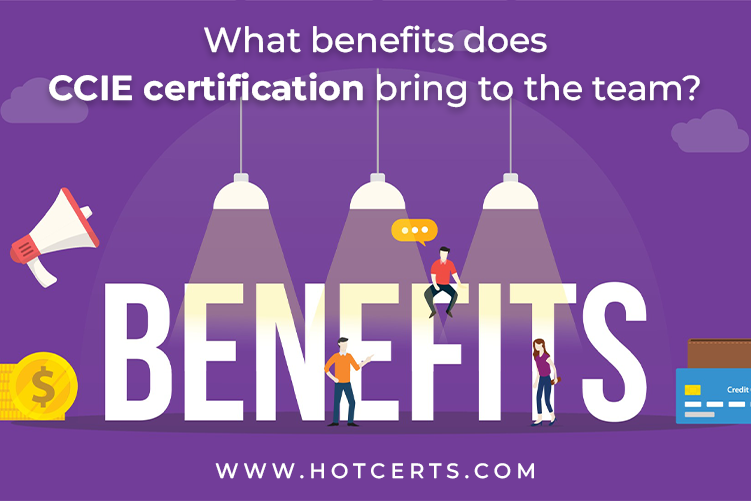 IT managers need team members to obtain CCIE certification for several reasons. First, as we saw in previous credentials, we can validate our employees' knowledge and increase their sense of accomplishment. Second, it adds considerable depth to employee knowledge, including additional comfort levels. Employees need to pass the written exam and prove themselves in a field exam conducted by Cisco.
Which industry employs Cisco Certified Professionals?
Today, almost every industry, from finance to education, requires Cisco-certified professionals. These professionals are in great demand as the sector uses hardware and computer networks to improve processes, get better results, and effectively use resources. The need for such professionals is high in the following industries:
Art, entertainment, media
Educational services
Finance and insurance
Enterprises and enterprise management
Manufacturing
Health management and social support
information
Professional, scientific, and technical services
Government
Real estate and rent and rent
Retail business
Wholesale business
What are the advantages of becoming a Cisco Certified Professional?
Obtaining a Cisco certification validates your ability to implement and troubleshoot different types of networks and related issues. Cisco certifications are valid for students with networking experience and working professionals. Certified individuals have the valuable skill sets needed for corporate roles, such as network engineers, system engineers, support engineers, and network engineers. Other benefits of getting a Cisco certification include:
Cisco Certified Professionals are one of the most paid IT professionals globally.
Cisco certification validates networking skills, one of the most sought-after IT domains.
Cisco certificates open the door to exciting IT careers in government and the military.
Cisco certified professionals have the right to work opportunities around the world.
Cisco certification Opens the door to diverse domains.