6
mn read
Microsoft Certification: Professional Guide to Get Right Certification in 2022:
Whether you are actively looking for a new role or pursuing professional development, Microsoft Certified Training is valuable to your career. Many recruiters are actively looking for IT professionals who have invested in and completed official Microsoft training. These certifications show that IT professionals have spent their time and effort outside of working hours to educate themselves further and develop skill sets within the profession of their choice. In addition, Microsoft is one of the most trusted IT brands globally, with 85% of Fortune 100 enterprises using cloud software and Office 365. they are being used by more than 1 million enterprises worldwide.
IT jobs are in great demand today's economy, and recruitment managers and recruiters are actively looking for the best candidates. There are currently over 500,000 IT jobs in the United States alone, and in September 2020, they posted over 700,00 IT jobs on LinkedIn in the EMEA region. With the confusion of recent pandemics and the introduction of new approaches to remote teams, IT and cloud computing have become essential for businesses moving their infrastructure online and working remotely.
Three levels of Microsoft certification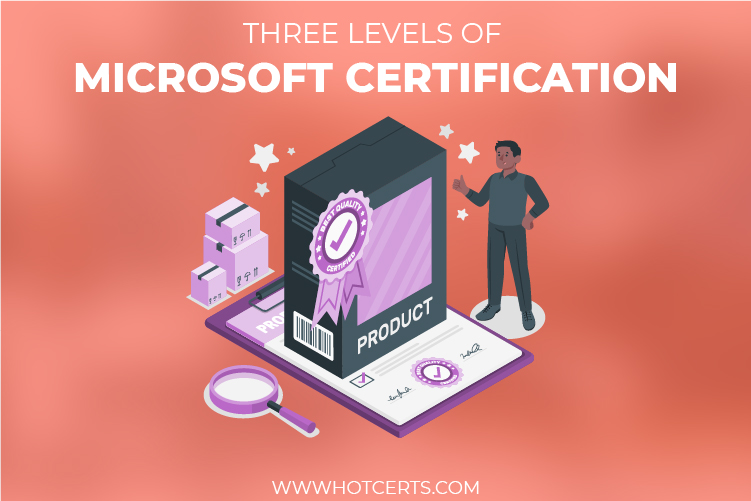 Technology Associate
Microsoft Technology Associate (MTA) certification demonstrates basic knowledge in critical technical areas such as networking, software development, databases, and security. These certificates are prepared for students and individuals who have not yet functioned in the IT industry but plan to start their careers in one of these critical technology domains. MTA certification does not require any prerequisites and does not require you to reach the next level of Microsoft certification.
Solution Associate
Microsoft Certified Solution Associate (MCSA) Certified
They were designed for IT professionals and job seekers working early in their careers. MCSA certification demonstrates that you can build onsite and cloud-based solutions on one of Microsoft's core technology platforms (Windows Server, Windows Client, SQL Server, Azure, Office, etc.). Solution Associate Certificates are a prerequisite for reaching Microsoft expert-level credentials.
Solution expert
Microsoft Expert Class certifications include Microsoft Certified Solutions Expert (MCSE) certification for IT professionals and Microsoft Certified Solutions Developer (MCSD) certification for software developers. Suppose the MCSA certificate measures skills in =single core technology. In that case, Microsoft's expert-level certification provides a wide range of individual technical skills and the ability to build on-premises and cloud-optimized solutions that incorporate multiple Microsoft platforms.
Other Microsoft certifications
Microsoft Office Specialist (MOS)
MOS certification is the only certification to validate the hands-on skills of Microsoft Office's most popular productivity apps (Word, Excel, PowerPoint, Access, Outlook). Even if you want to enhance your career or boost your productivity, getting a Microsoft Office Specialist certification takes your skills to the next level and demonstrates your expertise.
Microsoft Certified Trainer (MCT)
Microsoft Certified Trainers are technical experts and leading instructors in Microsoft technology. MCTs are the only individuals who can use Microsoft Official Curriculum (MOC) Courseware and Labs to provide Microsoft certification classes and certification preparations. Obtaining MCT certification opens up various career opportunities at computer training centers, universities, public and private organizations that offer in-house training.
Tips for passing the Microsoft Certification Exam
Before you take the Microsoft certification exam, you need to be prepared to increase your chances of success. Below are some valuable tips and resources to help you study for the Microsoft Certification exam.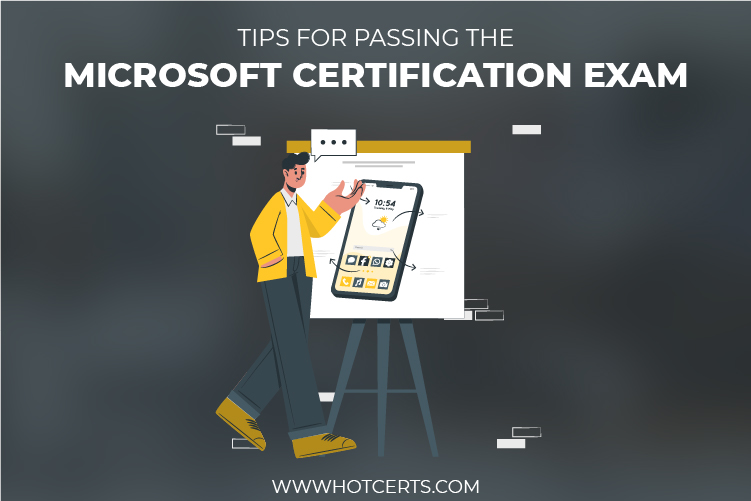 Access your company's training policies
Start by accessing your company's training policy. They can be outlined in the Staff Handbook, Business Intranet, or HR documentation. The organization may provide a specific budget for staff training each year. In this case, try making a request when your budget is replenished. Microsoft certification is globally recognized and respected. They show dedication, expertise, and intelligence. In addition, please send an email to the person responsible for signing off staff training. They can be helpful for your request.
Do your research
Do your research and if you need to present a discussion in favor of Microsoft certification and training:
Have all the information about the course and costs handy.
Get ready to answer your question.
Keep in mind that this is world-class training beneficial to the entire company.
Establish a survey routine
When studying, give yourself a structure and prioritize study time. Otherwise, it's too easy to procrastinate or ignore what you need. Think about when you can absorb the new material. When is the least distracting thing? For example, it may be easiest to study after bedtime or wake up in the morning if you have children.
Check the topics to be tested.
Microsoft certification exams are so complicated that even experienced professionals have failed. Questions challenge your proficiency, so assuming and expecting the best is not advisable. You can't know everything, but if you know the purpose and sub-purposes of each exam, you can start studying. Microsoft publishes exam descriptions for all exams and lists their objectives. Each sub-goal also includes a set of skills to be tested, so check this page as much as you can until you're comfortable.
Create a case and choose the suitable timing
If you need to create a case to ensure financial support for your training, time your request to fit your budget and focus on how exercise can help your entire organization. The benefits of Microsoft training and certification for your business include:
Increased productivity
New knowledge and skills shared across the team
Ability to accept new challenges and responsibilities.
You can add value by taking a new approach to IT work.
The team has Microsoft-certified staff and is ideal for prospects.
Couples can stay ahead of the competition.
Organizations can save money by eliminating outsourcing or hiring new staff.
You can take a new approach to IT challenges.
In addition, write your request to prepare for all possible consequences.
Find learning materials
Get learning materials from legitimate sources authorized by Microsoft. Microsoft publishes companion content online so you can find online resources and forums from people who have previously taken the exam. You can also get role-based certification training from Microsoft Certified Trainers such as New Horizons. Certified training companies have access to official Microsoft courseware that directly matches the purpose of the exam. Role-based certification courses such as Azure training, SQL Server training, and Dynamics 365 training help you dig deeper into a particular role while preparing for the exam.
Take notes while studying.
"If in doubt, write it down." Write down all the technical details you see while studying for the Microsoft Certification exam. It can be a lifesaver, as Microsoft exams are so detailed. It may not include the content you wrote down in the exam, but it is better to be safe than regret it. Keep your notes organized for later reference. Consider using a memo app such as Evernote or OneNote. Each has different features, so decide which one best suits your needs.
Practice with technology
The hands-on experience when taking the exam is invaluable. Instead of trying to answer questions about theoretical practices that you just read, you get a fundamental knowledge of what the task does. However, not everyone has access to technologies such as experimental sandbox data centers. Taking a course from a Microsoft-certified training company will allow you to test your product knowledge in a lab environment. You can even enroll for a trial version to familiarize yourself with most Microsoft products such as Windows, Azure, SQL Server, and Dynamics 365.
Take a mock exam
One of the possible things you can do to prep for the final exam is to take the practice exam first. Treat the practice exam as an actual exam to understand what your approach should be when the big day comes. Expect to fail your first practice exam. Then look up each wrong answer and identify your weaknesses. Please see here for how to take the official practice test.
Relax on the exam day
When it's time for the exam, it's best to relax, knowing that you're as ready as you can. All questions need to be taken seriously, but you are more likely to fail if you are stressed and overwhelmed and take the exam. Perfection is not the goal. Take yourself off-hook, knowing that it's okay to miss a question, make occasional guesses, or get confused by the question's wording. You can always retake the exam anytime if necessary.
Benefits of Microsoft certification for individuals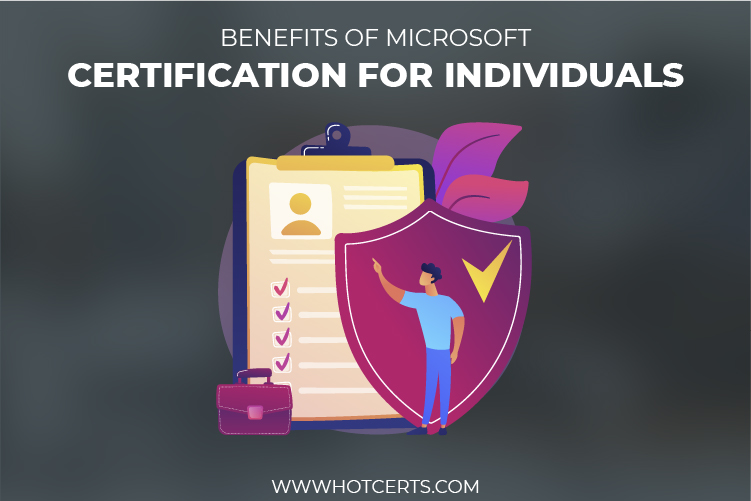 Microsoft Certified Professionals acquire market-related skills that employers recognize and respect.
With the latest Microsoft certification, you can keep your new Microsoft releases up to date.
Passing the Microsoft Certification Exam demonstrates your advanced technical problem-solving skills.
Microsoft certification helps distinguish you from competing job seekers in your IT position.
Investing the time and resources to get Microsoft certification proves your dedication to your career.
MCP has access to a vast global community of certified professionals.
Networking opportunities, meetings, parties, training sessions, special events.
Microsoft Certified Professionals have passed to exclusive online career-building aids and resources such as:
Microsoft Certificate Manager- Download, Create, and print customized certificates for IT achievements.
Microsoft Transcript Tool-Share password-protected transcripts with recruitment supervisors and employers.
Logo Builder-Design custom logos to improve your brand and emphasize Microsoft certification.
Benefits of Microsoft Certification for Enterprises
MCP has the skills and expertise to maximize the ROI of Microsoft software and hardware.
Microsoft Certified Professionals have proven to be more efficient and productive in the workplace.
Companies adopting MCP can harness the power of the Microsoft brand to attract and win new businesses.
Companies with Microsoft Certified Professionals have less downtime and lower employee turnover.