6
mn read
Robotic and Automation: Professional Guide Leads to Grow Your Business in 2022
Robotics and automation are considered fascinating topics in technology and businesses. These terms are almost the same, but technology's tremendous difference can't be utilized simultaneously. If you want to use any of them to improve your business, you first have to understand the details of both of them. Here we discuss robotics and automation, in fact, the key differences that make them distinct from each other and the factors that make each beneficial for your business.
Term of automation and robotics
Automation
Automation is the term used for the self-operating machines that work on computer software and other technologies and fulfill the work tasks done by human beings. The pattern of operations is predetermined, and the device will follow the sequence automatically. The automated machines will perform functions by decoding the instructions encoded for them.
Robotics
Robotics means creating, using, or designing a robot to do a specific task. Some robots are considered as the replicate or subtitles of human actions. We say many people are not apparent in the concept of these both things. But you have to be clear that these two terms are not identical. Sometimes some physical robots can do a task of automation, but initially, they are not designed for this purpose. We will see some examples that will clear both concepts for us.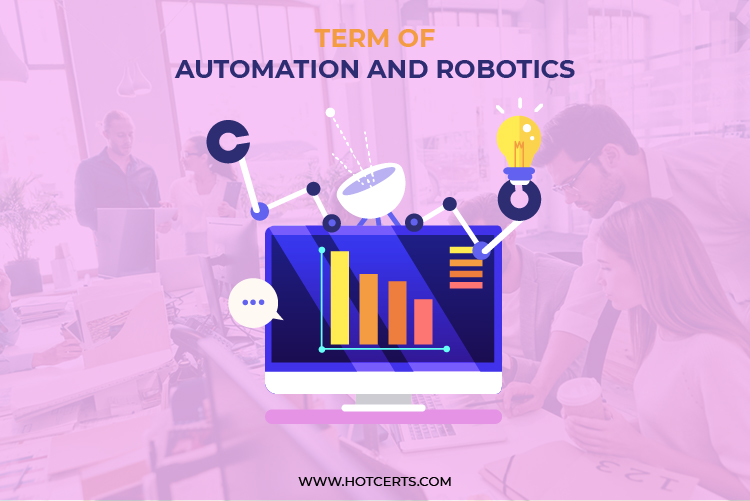 When you have to do any bank related task online, or you write something to customer support agents, the chat will be replied, may ask for some extra information, or if you did a task they will ask you to put feedback, these conversations may be automated but will not be robotics.
Using a robot to collect cars in the factory will be considered automation and not robotics. Besides this, some robotic pets like cats and dogs are designed to alone seniors or aged persons, and this will be an example of robotics that doesn't include automation.
Relation between robotics and automation
Robotics and automation belong to industrial and business technologies; whenever we use these two words, we automatically think about the automation technologies in industries. In industries, some automated processes are done physically using robots and specifically designed auto control systems. You may apply this kind of system in industry and factories where this high-tech and best-level autonomy is used.
Or, when we talk about the process of automation generally, we may consider it usually the system of automation, also known as software automation. This automation is used basically on computers by people. Different kinds of automation are used, like test automation, robotics process automation, intelligent automation, etc.
Differences and relations between different kinds of robotic and automation.
Here we will discuss the main difference between the IA (industrial automation) and (robotic process information). Now, let's discuss the different types of automation and the main differences. The most suitable kinds to consider in software are robotic process automation and intelligent automation when we think software automation. Sometimes these terms are considered interchangeably, but this will not be correct. What will be the main difference between them?
RPA is used to mimic the actions of humans by using software technology in the form of robots by using different apps like user interfaces. These robots can't be mortified and intercepted by the activities of humans. As the name is robots, this is not similar to physical robotics systems. These are best for the tasks based on rules and use data to structure information. Intelligent automation is used to operate a company or business tasks automatically by the processes of RPA. Different techniques are used to manage artificial and analytical intelligence business processes using machines. These can operate challenging tasks based on judgments and offer unstructured methods that are not ruled.
Questions to consider the whether your company requires robotics or automation?
How will you know that your industry requires robotics or automation? If you own a business and may have been confused about robotics or automation, what kind of technology will suit your company's needs. It will exactly depend upon the requirements of your company. You may find answers to these questions to know what will be better to use for your company's needs. If any operations are repetitively done by human beings and seem to be very dull. If there any process in your company that may be considered as the bottleneck to the needs of production
If you have to perform virtual or physical tasks for your company.
If you find that repetitive workloads seem to be done repeatedly, you may use the technology of automation; it will prove better for your company. But if there are some physical tasks to perform, then robotics should be. They may be a good candidate for consideration for the solution, and if they are conducted virtually, they must consider the option of automation.
 The use of robotic and automation engineering
Automation engineering refers to the design and creation of software, devices, and different machines that can operate multiple tasks that humans previously performed. On the other hand, robotic engineering is considered the creation, development, and design of robots, including hardware, software, sensors, and many other things. Robotics is very useful when packaging different things, checking the quality of material and assembling them.
Key differences between the applications of robotic and automation
There are some points to consider that will elaborate the clear distinction between the process of robotics and automation and their use and needs in different industries, and which one will be suitable for your business. Automation is considered a widely used term when considering software utilization and other devices and machines. Sometimes we use a software named business process software that will efficiently improve the process f your whole business.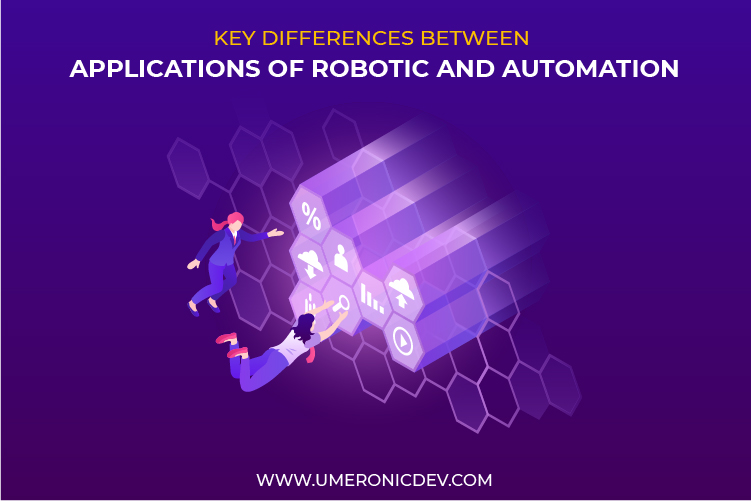 Besides s this, the robotic automation process is also considered the agent of software or robots by using intuitive intelligence and machine learning capabilities, which use computer-based software. Suppose you are still confused about the automation or robotic process. In that case, you may have a clear concept \because you can use robotic process automation where you want to take work in place of humans and make a workflow of that kind; these are also suitable for the back-office tasks and infrastructure of any company. Using this technology will make your company extensively developed in technology, and finance will be set at a considerable scale.
Some people may still ask if robotic process automation is artificial intelligence. We can say that robotic process automation will offer the solutions to your philosophical problems, but you can't be termed artificial intelligence. In RPA, the robots are designed based on the software that will mimic a human being and do the same tasks they do in a very restricted way. On the other hand, artificial intelligence may be considered intelligence simulated by human beings using computer-based technologies and different software.
Robotics is specifically considered where the relation is to directly with the physically present machinery; we can touch them, sense them, and observe them by the changes in autonomy that make different decisions on its own. This technology is widely used and has a great scope of applications like drones, other robots for specific tasks, and robots covering Mars. But suppose we see the history and traditional use of robotics. In that case, we may be considered the typical robots used in any industry for manufacturing and production. These robots may be referred to as industrial robots and can do a specific task for which they have designed by using certain software.
Conclusion (the things that will make the concept clear about robotic and automation)
These robots are physically present while the automation is done virtually. If the company or business needs any assistance on site of the company for the tasks that are done by the human beings, they may consider robotics. In contrast, if they need any virtual service that will respond to different kinds of people for specific purposes, it will be done using automation technology. Robotics can be used to do the tasks like inspection of material, assembly of the packaging and boxes, etc. At the same time, automation will be considered the agent online that needs no hardware. We can conclude that robotics may be regarded as the sub-category of automation with some aspects that may present physically.