8
mn read
The 5 Principal of the Most Secured Data Backup: You should know
In today's world of technologies, almost all businesses and organizations are shifting towards online database systems. In old times, it was pretty complex to keep the record of the company or organization through papers. That costs a lot of writing and might sometimes lose essential data. However, with time the technological world took a step forward. It introduced an online system where all businesses or organizations can keep their data online without paperwork, i.e., cloud storage.
Almost every business around the world is running its data through online platforms. However, there is still a big issue in keeping your business's critical data, which is data lost or hacked. More businesses are keeping their data online, and more hackers are urging to hack and sell vital data to other companies.
One of the most dangerous parts of data security is data loss. Hackers can put a virus on your online system, making all of your important data inaccessible. Therefore, every business must have a secured backup plan from which they can easily back up all their data without having any trouble.
Securing data must be the priority for all businesses keeping their data online. Data loss risks become higher at this stage. According to the latest research, more than 2300 cyber-attacks are happening daily. It also means that every 39 seconds, one online business becomes the victim of these cyber-attacks or data breaches. Hackers put the virus into your system and steal all of your customer's details.
They can also sell these valuable data to one's competitors. Not only that, but data loss also can happen if one of your employees permanently deletes an important file or one of your PC's hardware fails in a natural disaster. Moreover, you don't even have a secured backup to recover these files or hardware drivers.
Therefore, it has become necessary for every online business to have a secured backup plan if they don't want to lose everything. Keep reading the article to know the five tenets of the most secured backup you can follow to make your business more confident than ever. We will discuss some central principles of the most secured backup.
What is a Secured Data Backup?
Data backup or secured data recovery is a process of doubling or duplicating an organization's critical data to allow recovery of the duplicate set after the organization faces a data loss event. Today, plenty of secured data backup services are available that can assist businesses and organizations make sure that their data is entirely secure. Moreover, they also ensure that necessary information is never lost in a natural disaster like data loss or cyber-attacks.
At the beginning of the PC (personal computers), the strategy for strengthening standard information was to download data from the PC's hard drive to a bunch of small floppy plates kept in the original compartment. Beyond this point, solid state development, remote framework, and the development of various initiatives have led to situations where IT administrators can sponsor information remotely or expand knowledge into smaller versatile gadgets. Choose to download.
Cloud benefits and related alternatives work with simple far-off information capacity, so data is secure if a whole office or area is compromised. At the same time, advancements in RAID, or mirror, give mechanized reinforcement choices.
Why is Data Backup Important?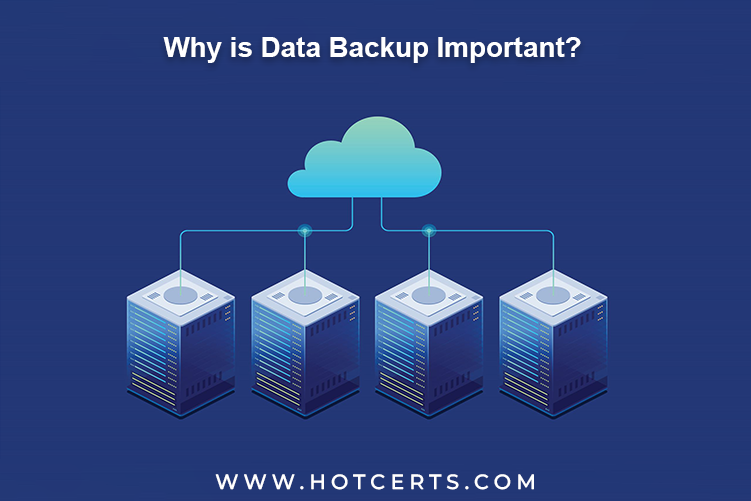 Every business that stores essential data on the device, such as consumer databases, employee details, memories, medical records, or private data, must know they can lose this one day. Mostly the businesses become victims of data loss, and they have no other choice cry over spit milk. That is why a data backup strategy is essential for every business, which can help them restore all the critical information lost over a natural disaster.
Now a day, a business's data is measured as one of the most critical and valuable assets, so it makes sense to do anything possible to secure its valuable data. A business owner can take a data backup plan as "insurance" against practical data loss incidents. Backing up valuable data makes sure that the data is conveniently recoverable and operational after the data loss incident.
We all know that data is one of an organization's most critical assets. Therefore, every business needs a robust system recovery and data backup solution that can assist it in surviving in the competition.
Moreover, one of the significant importance of backing up data is that you can access them, not an issue where you are or what you are doing. Data backup can secure your data even after a phishing or ransomware attack.
Imagine if you are at home or own an office where your PC's system has all the necessary information and valuable data about your business. And a natural disaster such as floods, hurricanes, or fires suddenly occurs, and you don't have enough time to take your PC with you. And these disasters disrupt the power supply to your PC's system and damage all the data. What could you do at that time? Therefore, you must have a data plan that can easily make all of your data back-ups without hesitation.
The 5 Important Tenets of the Most Secured Backup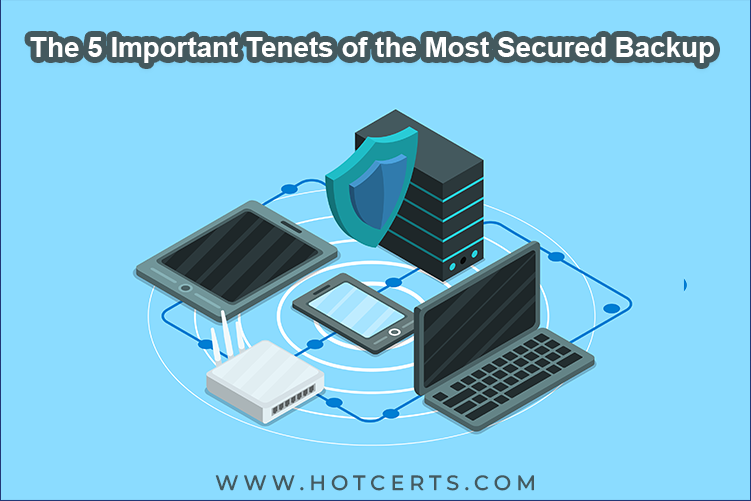 When you consider that about 93% of businesses file for bankruptcy within a year of a catastrophic disaster that blocked access to their valuable data for about 11 days, the worst Planning is just an innovative business, maintaining the framework. Walking without interference is progressing, and the asset is often depleted.
With information all over and steadily developing, IT conditions consistently changing, and broad, incalculable dissimilar frameworks need novel administration – and a plan B.
Be that as it may, with ransomware adding reinforcements to its rundown of focuses, a typical reinforcement arrangement is presently sufficiently not. Directors should utilize a new-age system to safeguard their business's most crucial resource – or risk experiencing excessive free time.
Custom organizations will back up their documents and frameworks, yet another degree of insurance is required to focus on record and programming of reinforcements with ransomware. Directors should utilize a new-age methodology to safeguard their business' most important resource – or, more than likely, gamble experiencing expensive margin time.
To ensure you can take the disaster in pace, you must follow the following five tenets of the most secured backup.
1. Data Security Must be 1st Job
Former FBI (Federal Bureau of Investigation) counter-intelligence ad counter-terrorism operation manager Eric O'Neill describes that "business in today's world are up against a huge rising tide of threats and attacks.
Data surveillance and cyber threats are more predominant than ever in our history – adding to an expected $2 billion misfortune due to ransomware this year. Malignant assaults are not generally restricted to programmers; ransomware-as-a-administration packs can be bought for a simple $40 by anybody with low upright norms and a longing to produce a couple of dollars."
Organizations should be ready for the most terrible situation with an answer that tends to security at each stage. That implies that some unacceptable reinforcement arrangement can give an organization a misguided feeling of safety.
Heritage reinforcement items, for instance, weren't made considering current information assurance dangers, so they are badly ready to counter them.
2. Encrypt Data and Take Control of Encryption Keys

Encrypting all the data and taking control of encryption keys is the best tenet of the most secured backup. In this tenet, you can encrypt all your data, meaning the one with the decryption keys can only read the information. Hackers also cannot get access to that data without encryption keys.
Without legitimate encryption, your delicate records could find their direction into some unacceptable hands, prompting catastrophes like fraud. That is why you should make reinforcement duplicates of all documents and scramble the ones containing indispensable data.
Information encryption safeguards your advanced information secrecy when sent on the web or through PC organizations or put away on a specific framework. No big surprise, current encryption calculations are an urgent part of the IT framework's security and correspondences. Calculations offer secrecy and drive essential security drives, like uprightness, non-disavowal, and verification.
Also, you ought to deal with the encryption keys to add one more layer of protection and security to your information. The odds are good that they might utilize unique, incongruent encryption apparatuses to get your information, prompting various encryption keys. You should safely store, secure, and recover every one of them.
You could depend on a center point and-talked engineering for circulated critical administration that licenses were decoding and encryption hubs to exist simultaneously in the organization. You can undoubtedly send talked key-administration parts to these hubs for joining with neighborhood encryption applications.
3. Control the Keys to the Storage
The discussion includes distributed storage on-premises capacity actually compensation. That way, you should think about the pros and cons of each and decide on a practical choice.
One significant contrast between distributed storage and on-premises capacity is the monetary angle. The previous are considered operational costs (OpEx) since they are leased monthly. The last option is capital costs (CapEx) since they are typically bought once.
Let's take a look at the main highlights of on-premises storage:
Primary storage resources are enthusiastic to the business
High-cost investment
Storage resources are owned and handled by the firm.
The firm secured the storage resources and data.
4. Always Make Sure Protection with World-Class Technologies
Suppose you are a regular tech headline reader. In that case, you also know that blockchain is one of the revolutionized and empowering the financial world by the power of cryptocurrencies such as Bitcoin. However, in the realm of information security, blockchain offers a way for organizations to guarantee that nobody can mess with their information.
By connecting a blockchain-based cryptographic finger impression to reinforcement records, current business reinforcement arrangements can demonstrate the documents are unaltered, guaranteeing they are protected to utilize.
Keeping your information hidden is likewise a significant thought, which is why moderate arrangements highlight industry-grade information encryption. Machine-based encryption can make it incomprehensible for troublemakers to get to your records, while cutting-edge structures likewise incorporate the capacity for the client to characterize the secret key expected to unscramble the document – adding one more layer of insurance.
5. Opt for a 3-2-1 Backup Method
One more thing on the reinforcement safety efforts list is the '3-2-1 reinforcement' rule execution. Per this cycle, you should make at least three duplicates of your information. In that way, aside from your live data, you'll have two different copies. This strategy is intended to relieve disappointments in both the reinforcement gadget and the principal gadget.
One of the most normal 3-2-1 backup approaches is disk-to-disk-to-tape. Therefore, you'll have hard disks on your computer serve, which can store live company data, while on the other hand, the hard drive on your backup server will be the first location for backing up your live data.
The third step includes interfacing a tape drive to your reinforcement server once the underlying reinforcement gets duplicated to the tape. Whenever required, you can supplant the video with one more reinforcement media of your decision.
In a perfect world, you should constantly store reinforcements on at least two different media. It lessens the likelihood that a gadget's disappointment might influence information recoverability.
The disappointment of plates on a specific server may frequently flag the expanded possibilities of circle disappointment in an alternate server. The gamble decreases when you utilize various media like distributed storage or tape.
Conclusion
In today's world, if you don't have a secured backup plan for your business, unfortunately, you cannot survive. Data backup has become an integral part of any organization. About 93% of the industry faces a significant loss because of data breaches and not having a secured data backup. Every business has to make sure they have a secure data backup. Cyber-attacks and data breaches can happen at any time.
So, you should not waste time and apply a secured data backup plan. You also have to follow the five tenets of the most secure backup mentioned above to ensure you have a robust backup plan. Comment below if you want any guidance regarding backing up the data. Our professional team will assist you accordingly!