3
mn read
RFID Technology In the Retail Industry
Radio Frequency Identification, commonly known as RFID, is among the most used technologies in various industries right now. After Covid-19, the scene of the retail industry changed a lot. People have used online shopping as the only existing option during the pandemic. After that, the retail industry made a significant comeback but with various changes.
Prioritizing human health and time has become one of the most important factors for all of them. RFID technology has helped retailers immensely to achieve that. In the post, we will talk about some basics of RFID tech and its use in the retail industry.
How Does An RFID Technology Work?
RFID ecosystem mainly consists of four major components. Those are as follows,
RFID tag– RFID tag is essential to store any information and transfer them later. If we want to locate something or someone, we need to attach these tags to them.
RFID reader or Scanner– This reader is essential to receive signals from an RFID tag. When we scan any tag, we can extract information previously stored on it. For example, the moment a storekeeper scans any product; it will show the price and other important information almost immediately.
Antenna– To create an RFID ecosystem, we need an antenna that can receive radio signals and direct them properly.
RFID software– This software manages the whole operation. The scanner or reader sends all the encoded information directly to this RFID software for other workings.
Evolution of RFID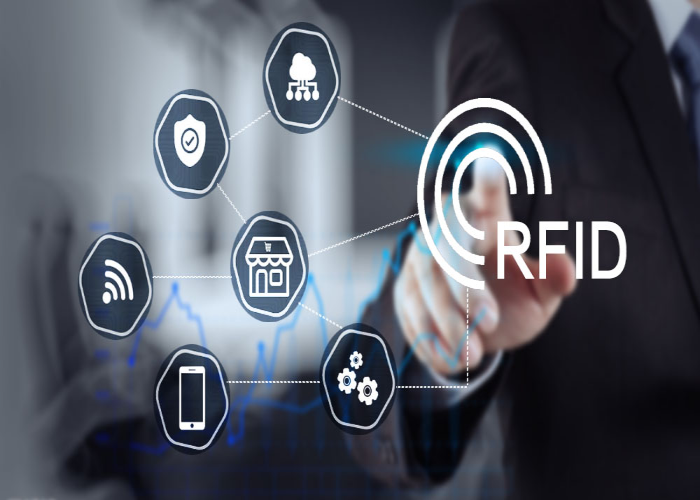 In recent years, the use of RFID has gone up significantly, mainly because of a decrease in price and the usefulness it offers. Modern RFID tags can contain a large amount of data, the reader has evolved, and RFID software now takes time in milliseconds to complete a whole operation.
RFID has improved inventory accuracy by almost 25 per cent. This rapidly changing technology has become essential for any retail business. Whether you use RFID in a shop or a warehouse or use RFID in the healthcare industry, it has created the trust.
Uses of RFID Technology in Retail
Now let's focus on some of the uses of the RFID ecosystem in the retail industry.
Inventory Management
RFID is most used in inventory management. Inventory tracking has become a simple work with RFID tags, readers, and RFID software solutions. Product location, cost, and other important data can now be transferred in just seconds. This has decreased human effort significantly.
Those who are running fast delivery services find it useful to use the RFID ecosystem as it can cut down the operation time a lot. If you are looking for accurate and fast inventory management, you should consider this RFID technology.
Retail Operations
Day to day operation of a retail shop is quite huge. RFID technology created its name here, also. Suppose you have decided to buy clothes for yourself and chosen them from the display. Now it's time for billing. Earlier, we needed to stand in a long queue to pay because the billing process was not very easy to back then.
Now the situation is very different. A person responsible for billing just has to scan your item, and the billing process starts automatically. In just seconds, your item got cleared, and you will receive the printout. Those who are running any retail shop can understand the benefit of using RFID technology.
Customer Experience
Today's customer needs everything quickly. Time has changed a lot. The vendor who can deliver products in less time will eventually benefit. Customers are pleased with this RFID technology, especially after the pandemic; they prefer touchless automated technologies more.
So, this is all about RFID technology in the retail industry. RFID has brought a revolution, and this will only grow with time. If you are running any retail shop and have not moved to RFID, this is the right time to move.
SMO- RFID technology has brought a revolution in the retail industry in recent years. Do you know how? This post can help you understand what RFID technology is and how it has changed the retail industry for good.