7
mn read
Extended Reality (XR): All Things You Must Know About XR in 2022!
We've previously talked about Virtual Reality and Augmented reality. These two technologies have changed the world's perspective of vision. You can now watch the whole world around you and feel it sitting in your place. You can play cricket or any other sports game on virtual grounds, and you think you are really in that game. However, you are just standing in your room and playing the game.
Virtual reality and augmented reality have provided significant support in all parts of education or the world. It helped us understand the human body and assisted in educational purposes.
Extended Reality or XR is also one of the most important terms when talking about VR or AR. Comprehensive reality is the upgraded version of virtual reality. We can also say that extended reality (XR) is a superset of virtual reality (VR) and augmented reality (AR).
As we all know, the extended reality, or XR, is now changing the training perspective. Many organizations are now adopting XR training. But, before you jump into XR training, you must know whether the training is an excellent fit for your organization or not. Extended reality is a term that is not fully developed yet.
In 2022, you must have witnessed a tremendous increasing rate of virtualization and digitization of nearly every aspect of our lives, i.e., healthcare, business, medicine, and education. Digitization is the best innovative technology that led to growing interest, such as extended reality or XR.
In this article, we're going to discuss in deep about extended reality, its trends, and many more. Keep reading this article to know more about the fantastic technology that can change the world in the future.
What is Extended Reality (XR)?
In the past, you must have heard of live simulation games such as Pokémon Go AR mode, where you can catch your Pokémon character in your real-world environment. You can see nature right outside of your street or your area. Did you ever imagine how that works? The best answer is "Extended Reality (XR)."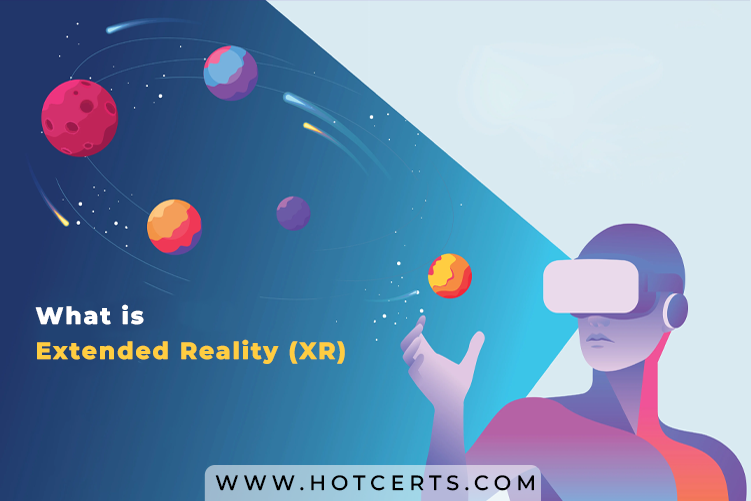 XR or extended reality is an umbrella term that denotes to all-immersive new technologies, concluding the ones which already exist, such as VR (Virtual Reality), AR (Augmented Reality), MR (Mixed Reality), and the ones which are still in development phase.
Extended reality or XR is a term that refers to both real and virtual joint environments and human-machine connections which are generated by wearables and computer technologies. It has a combined mixture of VR (Virtual Reality), AR (Augmented Reality), MR (Mixed Reality), and other areas. Extended reality has various technical and immersive tools that enhance and utilize natural human senses. Moreover, the effect will be an additional intuitive relationship between the virtual and real worlds.
The term extended reality is used to elaborate on the central concept of "transforming" and "extending" the world's reality using technology. According to the studies, the XR market will be valued at 26.06 billion USD in 2020, and it is awaiting to grow up to 463.8 billion USD by the end of 2026 with a CAGR (Compound Annual Growth Rate) of more than 62.68%.
How Does Extended Reality (XR) Work?
To accomplish extended reality (XR) highlights, engineers plan the vivid calculation for a superior client experience. Engineers additionally require 3D models and high-level PC vision to make a virtual world.
Developers utilize C, C++, Java, Python, and Swift to make or configure Extended Reality calculations. With the assistance of AR (Augmented Reality), Developers use cell phone cameras to catch the general climate. With the aid of the AR procedure, we examine the environment and overlay the computerized object at a particular point.
Engineers use trackers like GPS, infrared, and different sensors to put the advanced item in a particular area. With the assistance of AR, clients can set the progressive thing anyplace yet can't interface with it. Accordingly, we use MR when the client needs to cooperate with the computerized object.
Virtual Reality (VR) gives a 360o degree of perspective on the virtual world. It utilizes the client's touch, sight, and hearing faculties to provide a vivid encounter. The VR headset should impact the sensor of the client.
Applications of Extended Reality (XR)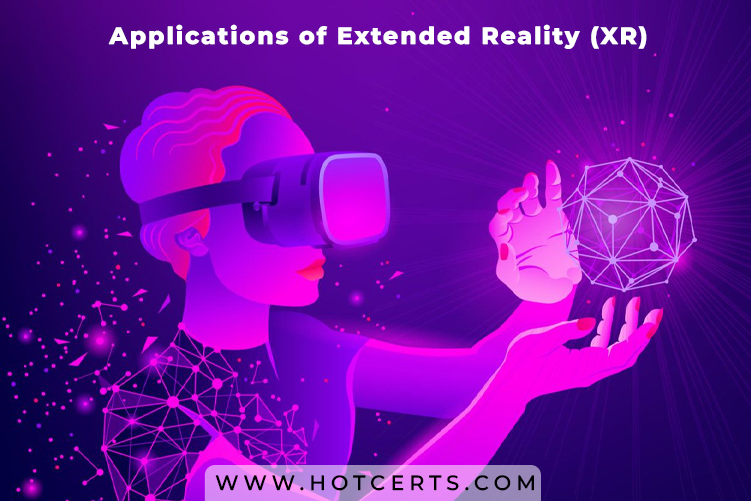 After turning about the corner, extended reality or XR technologies will be pervasive tools. It interprets theoretical ideas into substantial encounters and offers a chance for organizations and brands to follow through on their guarantee in exciting ways, which helps increment efficiency, further develops productivity, and connects with clients. Here are a few businesses that would straightforwardly benefit from XR.
Entertainment
Regardless of the way that not being the leading business preparing for a virtual development, a more significant part of the overall industry inclines vigorously towards diversion. XR carries vivid encounters to the diversion world, permitting buyers to encounter unrecorded music shows and occasions. For instance, the Chinese young lady band The first live show in March 2021 included a more significant number than twelve XR-created areas.
The South Korean boyband BTS's display will happen in Hong Kong and Moscow separately in November 2021. That will introduce Extended Reality advancements to make a block-formed space work with LED (light-emitting diode) dividers to play "BTS Map of the Soul ON: E," a web-based show that pulled more than 998,000 fans in 2020.
The entertainment environment was the very first application to adopt the XR experience. Viewers can also enjoy the 360o view experience of their desired music and sports event with the assistance of virtual reality (VR) headsets.
In today's world, movie theatres and cinemas use VR and AR technology to appeal to the audience for 3-D and 4-D video experiences. Likewise, the 3-D and 4-D gaming sectors use XR technology significantly. Viewers play numerous virtual games using VR headsets and other devices.
Real Estate
While planners and inside fashioners can use XR to revitalize their plans, property directors and specialists can smooth out the rental cycle by permitting possible occupants to see properties. These design situations are empowered by Extended Reality upgrade client experience while areas of strength for giving open doors. Occupants and purchasers need to visit the site to look at the property before getting it.
However, the purchaser can be far away from the place to stay at times. In this manner, XR offers a virtual encounter of the property for the purchaser to have a perspective on the property essentially.
Training
Extended reality or XR opens new and innovative doors for education and training. Extended reality bonds the considerable gap between trainees and educators, empowering closer teamwork even when students attend the class session remotely from their homes. Additionally, people such as pilots and chemists, who have to work in high-risk environments, can educate safety from a more conservative classroom setting. For medical training of the students, they can get the best hands-on training on virtual patients using extended reality (XR).
Few pieces of training have a high endanger, in actuality. For example, for new flight understudies is challenging to prepare them with genuine planes. This way, Aviation organizations make computer experiences to design the new understudies. With practically no serious dangers, they can figure out how to fly a plane. Today, driving schools utilize computer experience to help individuals with going abilities in any event.
Marketing
Clients today can attempt the item online before getting it. It assists plenty of clients with picking up their items without any problem. For example, you can now purchase goggles online by tapping on them, and you can utilize your front camera to perceive how they can look on you.
Numerous furniture organizations use XR innovation. Clients can have a 3D model on their application, and they can attempt the furniture into their space to perceive how it examines the specific region. It is the best way of marketing as a client can see their desired table through a 360o angle before it gets done physically.
Many car manufacturers are now introducing extended reality tools. The buyer can see the interior and examine all the spare parts of the vehicle they wish to buy. In the future, manufacturers will design the car according to the clients' needs, and to get it done, they have to take the help of XR technology.
Many marketing companies are now introducing virtual advertisements that are making more and more sales for the companies. Extended reality or XR can be the best tool for marketing in the future. Before buying any product online, there will be an excellent option for the buyer to see the actual product from a 360o view using the front or back camera. And you can see the product in your plain place. You have to put your back camera in the primary area, and you can move your mobile around the product to have a closer look.
Sports
For people who are great athletes but they were unable to go for training sessions outside because of the COVID-19 pandemic. They could not move out of their residence due to the lockdowns everywhere. As a result, their proficiency gets affected. Extended reality (XR) gives them a great chance to stay connected and on top of their game. They have to wear XR headsets, and they can play and practice their desired sports game just by standing in their living room.
For example, in the game Golf Simulator, you can practice at your desired fantast golf course without going there in reality. A cricket simulator is another best example of XR technology as you can play cricket and practice it as a reality without physically going to the training sessions.
Conclusion
According to recent research, the potential of extended reality (XR) is just the beginning of discovery. It has been proven that 60% of people believe that comprehensive reality will be a mainstream environment in the next five to six years. Extended reality is still in the development phase, but its potential and market value are showing progress in the future. The innovation of XR results in the discovery of new concepts and technologies such as the "Metaverse." Facebook has already launched its XR Metaverse environment that will change the world's perspective of exploring the environment. Extended reality has become a hot topic in the technical world.
It is an excellent combination of VR, AR, and MR. With comprehensive reality, users can interact and use digital or virtual objects in the real world. In short, extended reality or XR will change the future of the tech world. Do you still have concerns about XR technology? Are you still confused about XR, or do you have some suggestions? Comment below your questions and suggestions about extended reality. Hotcerts professional team will assist you accordingly!