7
mn read
Many people want to work in technology but lack the fundamental skills to seek one of our Technical Specialists or Professional certificates. The Microsoft Technical Associate (MTA) certification offers a new entry point for persons with limited practical expertise to enter the profession. The MTA Windows Server Administration Fundamentals is a new entry-level certification intended to assist individuals in taking the initial step toward pursuing a career as an information technology worker or developer.
To obtain your MTA, you must first pass the MTA Windows Server Administration Fundamentals Exam, which assesses your fundamental knowledge of Server Installation, Server Parts, Active Directory, Storage, Server Presentation Management, and Server Maintenance. You will receive your MTA Certification after passing the Windows Server Administration Fundamentals MTA Exam 98-365. Continue reading to learn more about the MTA Windows Server 98-365 Administration Fundamentals certification exam.
What is the MTA Windows Server Administration Fundamentals Exam?
The Windows Server Administration Fundamentals MTA Exam 98-365 is designed for people who want to demonstrate their understanding of Windows server administration. This Windows Server Administration Fundamentals exam covers the essentials of Windows server management and is suited for those who are just starting in IT or want to enhance their skill set. It covers server installation, responsibilities, performance oversight, and upkeep. To pass the examination, you must understand the following principles completely:
Understanding Of Server Setup And Configuration: A Windows Server Manager should be able to install and configure server operating systems on both physical and virtual machines.
Knowledge About Active Directory: Active Directory is a directory service offering unified network management of resources. A Windows Server Administrator must be well-versed in Active Directory and capable of managing users, groups, and organizational components.
Networking Protocol Knowledge: A Windows Server Admin should be able to administer network services such as DHCP, DNS, and IIS. They should also understand networking protocols such as TCP/IP and the Open Systems Integration (OSI) framework.
Windows Server Administration Fundamentals MTA Exam 96-365 Details
Here are the basic Windows Server Administration Fundamentals exam details that you must know in 2023:
Exam Name: MTA Windows Server Administration Fundamentals
Exam Code: 98-365
Exam Duration: 45 minutes
Exam Format: MCQs
Number of Questions: 40-60
Exam Fee: $127 USD
Passing Score: 70%
Windows Server Administration Fundamentals MTA Exam Domains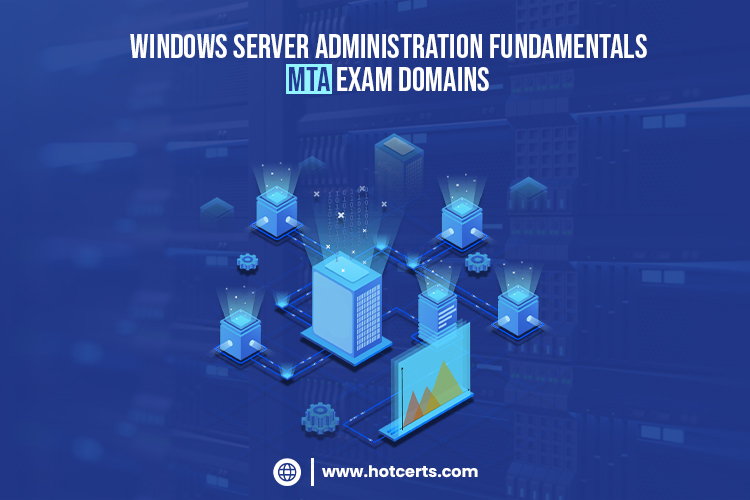 Here are the following noteworthy exam domains you must know before taking the Windows Server Administration Fundamentals Exam in 2023:
Understanding Server Installation
Knowledge Of Device Drivers
Installation
Removal
Disabling
Update/upgrade
Rollback
Troubleshooting
Plug and Play,
Interrupts and irqs
Driver signature,
Governing via Group Policy
Service Comprehension
Startup kinds, recovery options, postponed startup, Run As settings for a service, halting or stopping a service, service accounts, dependents.
Understanding Server Installation Alternatives
Selecting the proper operating system version options
Experimenting with Nano Server installation and interactive installations
WDS-assisted installation
VHD/VHDX deployment source, unsupervised installations
Upgrades, clean facilities, and migrations
Understanding Server Roles Is The Second Topic.
Recognizing Application Servers
Message servers
Servers for database
Collaboration hosts (Microsoft Collaboration Documentation)
Server tracking
Management of threats
Web Service Understanding
IIS Modes of Activity ( IIS Methods of Operation)
FTP and WWW (FTP)
Using the Server Manager to install
Distinct worker processes
Parts, sites, ports, SSL, and certificates are being added.
Recognizing Distant Access
Remote support is available.
Workstation Services and remote management tools
Point-to-point services
Licensing
The RD Gateway
VPN
Virtualization of applications
Several ports
Knowledge Of File And Print Services
Printers in the community
Network printers (Control network printing access between legal organizations)
Printer sharing
Printing over the internet
Web administration (Setting Up a Web Server for Website Deploy Publication (Web Deployment Handler))
Driver placement
Auditing, print job administration, and file, folder, and sharing permissions vs. rights
Comprehend Server Virtualization
Virtual memory
Network virtualization
Stored states and photos
Transformations from physical to virtual
Modifications from virtual to physical
VHD and VHDX video formats
Integrated virtualization (Use Nested Virtualization to Run Hyper-V as in a Virtual Environment)
Knowing Active Directory Is The Third Topic.
Recognizing Accounts And Groups
(Using a Domain User Account as an Internet Service Logon Account)
Accounts locales (Local Accounts)
User profiles (Learn More About User Profiles)
Accounts on computers
Different sorts of groups
Default Windows Server Administration Fundamentals classes
Scopes of groups
Nesting a group within another group is referred to as group nesting.
Comprehending AGDLP and AGUDLP procedures to aid with nested implementation
Knowledge Of Organizational Components And Containers
Ou purpose (reviewing ou design ideas)
Containers' function (windows and groups)
Delegation
Containers by default (standard container)
Applications for various containment objects (the containers: advanced capabilities)
Containers that are hidden and visible by default
Knowledge Of Active Directory Infrastructure
Domain administrators (Network Organizations and Domain Administrators)
Forested domains, child website domains, operational roles, and master roles
Workgroup vs. Domain
Trust connections (Establishing a Trust Relationship)
Degrees of functionality
Obsolete functional levels
DFS Namespaces Introduction
Comprehending Group Policies
Processing of group policies and the Policy Administration Console (Processing Group Policies and Events, Group Policies Management Console)
Local policies, computer regulations, and user policies
Storage Fundamentals
Recognizing Storage Methods And Their Common Application Cases
The benefits and disadvantages of various storage topologies (Overview of Storing Technologies)
Local and networked storage (Web Storage Introduction)
Fiber Channel and iSCSI equipment (requirements for failover clustering equipment and storage choices)
RAID Redundancy Explained
RAID 0, 1,  5, and 10, and permutations are all possible.
RAID software and hardware (Hardware-driven RAID Systems (iSCSI) Certification Requirements)
Disk Types Explained
Comparisons between Solid State Drives vs Hard Disk Drives
Basic disc ATA (Basic and Active Disks)
Dynamic disk
File systems and mount points
Downloading a virtual hard drive
File systems that are distributed
Mastering Server Performance Control Is The Fifth Topic.
Recognizing Key Server Hardware Components
Memory, disk, CPU, and network specifications (CPU and Disk Action, Microsoft Windows Processing Requirements)
Architectures of 32-bit or 64-bit (x64 Architecture)
Detachable drives (Controlling USB devices along with other removable media, Monitoring the use of removable data storage devices)
Cards with graphics
Cooling, power consumption, and port (Computer Network Hardware Classes)
Recognizing Performance Monitoring
Methodology, processes, network, memory, CPU, and disk effects (Create or update techniques, Storage-optimized virtual machine)
Creating a starting point (Create security baselines)
Performance Display (Overview of Windows Presentation Monitor, Configure Presentation Monitoring)
Reserve Monitor (Process CPU Monitor v3.60)
Task Manager, performance captives, Data Collector Circles (Using Task Director, Performance Counters, Employed with Data Gatherer Sets)
Understanding logs and alerts, Event Viewer
Purpose of presentation logs and alerts (Performance Logs and Alerts)
Understanding Server Upkeep
Identifying Steps In The Startup Process
BIOS, UEFI, TPM, boot sector, bootloader, MBR, boot.ini, POST, Safe Mode
Understanding Business Continuity
Backup and restore, disaster recovery preparation, clustering, AD restore, folder resending, data joblessness, uninterruptible power supplying (UPS)
Recognizing Updates
(Disk driver, Beginning with Update for Windows, the Windows Server Update Services (WSUS)) Applications, driver, operating systems, apps, Windows Update, Microsoft Windows Server Update Services (WSUS)
Understanding Troubleshooting Procedures
Procedures, operations, and best practices
Systematic vs. Specialized method (Network speed troubleshooting)
Performance Monitor Overview (Windows Speed Monitor Overview, Setup Performance Monitoring)
Windows Event Viewer (Event Log)
Process Monitoring v3.60 (Resource Monitor)
Library of Information Technology Architecture (Service Manager documents)
Centralized logging
Event filtration (Event Grid event filtering)
Standard logs
How to Prepare for the Windows Server Administration Fundamentals MTA Exam?
Microsoft Education Platform
Candidates can use the learning tools provided by Microsoft to learn more about the test. These study tools for the 98-365 test are available on the official examination page. That is to say, you only need to search for the Windows Server Administration Fundamentals MTA Exam 98-365, and the necessary material will assist you in better understanding it.
Documentation from Microsoft
Microsoft documentation is the next phase that will be most beneficial to pass the Windows Server Administration Fundamentals MTA Exam 98-365. You are going to able to grasp the fundamental window server principles and services by using Microsoft documentation. As it has several modules that will assist you step by step, you will comprehend things more correctly.
Microsoft documentation will also assist you in learning about the Windows computer, Windows-based networking purposes, Active Directory, organizing accounts, System restoration tools, and ideas.
Participating in Study Groups
Joining study groups will be advantageous during the test preparation period as these organizations will assist you in staying connected with those who are on the same journey as you. Furthermore, you may discuss any exam-related concern or query here. You will receive the best possible response to your inquiry if you do so.
Exam Practice Exams
Practice exams are helpful during exam preparation since they allow you to examine your weaknesses and strengths. We are all aware that time is critical throughout the exam. So, using Hotcerts practice exam tests can strengthen your response abilities, resulting in significant time savings. Hotcerts is the best platform if you want to pass your Windows Server Administration Fundamentals MTA Exam 98-365 in no time. We offer plenty of exam topics and demos to help our students quickly pass the exam.
FAQs (Frequently Asked Questions)
What Exactly Is The 98-365 Exam?
This MTA Windows Server Administration Fundamentals Exam is designed for students comfortable with Windows Server administration principles and technology. Candidates should know about Microsoft's Windows Server, Microsoft-based networking, Active Directory (AD), account administration, and system restoration tools and concepts.
Which Language Can We Administer This Exam In?
Windows Server Administration Fundamentals test is available in the following languages: English, Chinese (Simplified), Chinese (Conventional),  Italian, Japanese, Korean, Portuguese (Argentina), Russian, French, German, Spanish, and Spanish (which is Latin America).
How Many Times May A Microsoft Test Be Taken?
A candidate can only take the Windows Server Administration Fundamentals test five times a year, after which the applicant is no longer entitled to take the MTA 98-365 exam for another 12 months. The 12-month term will begin on the anniversary of the fifth failed exam.
Conclusion
MTA Windows Server Administration Fundamentals certification will never upset you if you're looking for an exciting update to your job. You will gain a fundamental comprehension and some significant talents by taking its Windows Server Administration Fundamentals MTA Exam 98-365. These two must work in tandem to quickly build a standard across firms. So, your goal is to prepare properly with the most authentic prep material.