9
mn read
A Complet Guide: How to become a Web Fweb designin 8 steps!
Today, with over 1.7 billion websites online, more and more companies recognize that they are essentially invisible without their presence online. From giant multinationals to the remotest startups, businesses and entrepreneurs invest resources to make money for them and develop sites that represent their brand on the web. There is an ever-increasing market for web designers who are experts in working on the front-end (or public) elements. A subset of web design, User experience (UX) design, is an area of ​​high demand, and managers worldwide embrace this role.
Web design is a bright career path for any individual who desires work safety with a bit of artistic freedom. And fortunately, it is not out of reach for those willing to spend their time and effort building the necessary foundations. With proper education and skills, and a fair amount of practice, most people can learn to create a practical, functional, and beautiful website.
What is a web design?
Web design refers to your website's appearance, layout, and innovation. Web design usually directs to the user experience and front-facing aspects, not software development. Therefore, web designers work on the look, layout, look, structure, and content of a website.
What is the type of website design?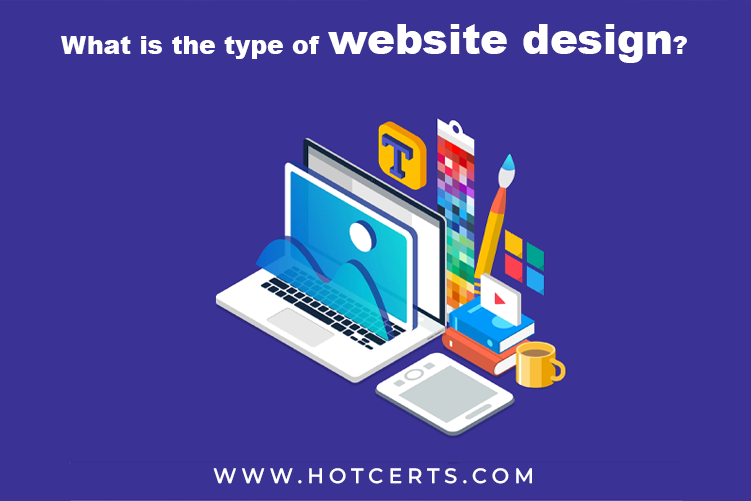 In this Mobile First Design, two types of website design can be used to design a site: adaptive and responsive. Comprehending when to use each is very necessary for web designers.
Adaptive web design
Adaptive web design uses at least two website versions to fit different screen sizes. Adaptive websites have two main categories. Some adapt based on the device used, and some adapt based on the browser's width. The advantage of adaptive web design is that you can create custom designs faster and easier without code. It is also compatible across different devices and browsers, allowing pages to load quickly. On the other hand, you are missing out on some of the effects that are only available for responsive sites, so if you use the categories mentioned above for each device type, your site may appear to be corrupted in a small browser window on your desktop.
Responsive web design
Responsive websites have a flexible grid layout based on the percentage of each element in the container. For example, if a single component is 30%, it will always be 30% regardless of the screen size used by the device accessing the site. As a result, no matter how big your device's screen is, you will get a uniform and great experience. There are also many responsive website templates available. What are the drawbacks? If you start from scratch, you should extensively test your site. Also, creating a custom responsive website design can be pretty tricky if you have not had the opportunity to learn how to code.
What are the elements of web design?
Web design consists of all the visual and functional elements that determine how users view, read, and use a website. So what is the quality of making a great web design? Here are all the elements you need for a successful strategy:
Visual elements of web design
Written copy
Just as web designers need to be interested in aesthetics, the content you write is essential to the success of your design. Not only does this help you determine your location in search results, but it also tells you what most users want when they visit your site. The text should be straightforward, informative, and concise.
Font
Many of us read without considering typography, but fonts are an essential part of the overall design, whether or not we are familiar with it. If you have not read it yet, pay attention to the fonts displayed. Check out the iconic businesses and think about why they chose the typography they did.
Color
With unlimited options, choosing a color can be pretty daunting. A monochrome color design based on a single color and uses different saturations, brightnesses, and hues, or a complimentary design that combines the two colors on the other side of the color wheel will make your site look better. Consistency is essential no matter what you decide.
Layout
A website's ease of use, functionality, and visual appeal depending on how the content is arranged. There are no strict rules for layout, but keep your target audience in mind and make sure your design is intuitive.
Shape
Incorporate graphic elements into your design to significantly improve the overall look of your website. Use eye-catching colors and shapes to help your viewers pay attention when visiting your website.
Spacing
Intervals are essential for creating visually impressive websites that are easy to navigate. Proper use of whitespace is critical to creating a design that perfectly balances text, photos, and graphics. Consistent and professional use of whitespace makes it easier to navigate your site.
Images and icons
Carefully selected images and icons can help convey a lot of information in a concise amount of time—select pictures and icons along with your message and branding. Pexels, Unsplash, and IconMonstr provide free images and icons to use. Alternatively, you can get a paid account on Shutterstock to meet your stock image needs.
Video
If you are on the Internet, you have noticed a tendency to integrate video into web design. When used correctly, videos can deliver messages to users, but they may not be able to convey them in words or photos. However, the video is eye-catching, so be careful not to get in the way of other design elements.
What do web designers do?
Here is a brief overview of a web designer's roles, responsibilities, and work settings. Because web design involves the front-end elements of website creation, web designers are responsible for building web pages' look, layout, content, and flow. The web designer's job is to consider the journey that users may take as they navigate the site and design all the visual and interactive elements that support that journey. Some projects require the web designer to create a complete website, while others require creating a single landing page.
Similarly, designers may develop new sites from the beginning or work on refurbishing existing platforms. What someone in this role does daily depends on the employer, client, work environment, and discipline. Still, it is no overstatement to say that the average web designer is likely to have at least some of the following responsibilities:
Meet clients to understand web design requirements
Develop mockups that express both functionality and aesthetics using the latest tools
Adjust design to fit different screen sizes
Conduct user surveys to understand the needs and concerns of user groups
Consider the organization of elements on web pages and the behavior of interactive features such as buttons
Leverage your data to improve your website design over time
Creating a guide on-brand web design style
Prepare the basic code for the main design elements
Work with graphic designers and copywriters to procure text and visual resources
Implementation of stakeholder feedback
Work with web developers to implement the final design
Brainstorming website structure and flow across all pages
Decisions on colors, fonts, header styles, spacing, icons, images, and animations
Perform user testing to assess how people are involved in the design
Where do web designers work?
One of the many benefits of building a career in web design is the ability to pursue work in various industries, from healthcare, finance, and education to travel and computer system design. It is also a profession suitable for working from home or self-employed. Many web designers work as freelancers or contractors and report directly to their clients.
If you are not a self-employed designer, you may be functioning for a professional design company or in the digital division of a marketing or advertising agency. In either case, you are likely to report to your project, operations, or account manager and have the chance to work on a broad spectrum of projects from different brands.
Alternatively, you can hire a startup, non-profit, or large organization (perhaps an e-commerce company, tech company, or publisher). In these environments, you'll probably find yourself in the marketing or IT department and reporting to the person responsible for design, development, or communication. In most cases, you have the opportunity to dig into one or two brands of web design efforts that have the advantage of being familiar.
What kind of education do you need?
The fact that the industry is rushing means that there are few formal and rigorous educational requirements for learning web design. In the eyes of your forthcoming employer, it may be as important to prove practical experience as it is to acquire theory and principles from a degree in web design. It means learning continuously through experience over time. The higher your degree in web design, the more competitive you are when looking for a job.
Although not the standard qualifications your employer requires, most web designers start with a degree in computer science, communication, digital design, graphic design, or similar research. If you plan to switch from your current career to a web design career, the type of degree you hold will prove your ability to use web design software and provide an impressive portfolio of past jobs.
What are the different ways to get a web design education?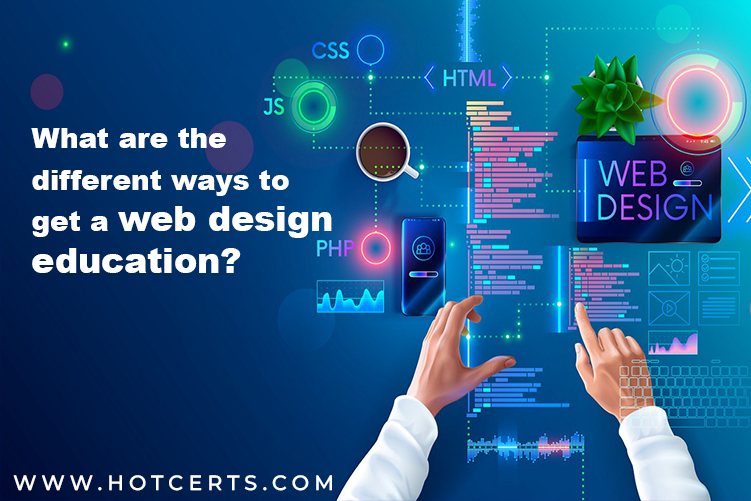 Bachelor's degree:
A bachelor's degree is the gold standard for education in finding web design jobs. Employers often prefer this four-year college program, and it can be regarded as a vital prerequisite if a firm or client is looking for an expert-level web designer. In the second half of the program, you will study various common subjects in the first two years before focusing on a particular web design class major. Obtaining a bachelor's degree can be time-consuming and costly, but it will help you set up your career journey.
Associate degree:
The Associate Degree in Web Design is a two-year technical program focused on the hands-on training needed to work in this industry. It may include web design classes concentrating on programming, multimedia design, usability testing, and application design. If you're entering the world of work, this way of learning web design may speed up your career.
Online web design course:
Online courses are at the heart of continuing education wherever you are in your career. This course will help you close skillset gaps, mainly focusing on new software development and expertise in digital marketing principles. Both free and paid online web design courses are available.
No matter what type of education you choose, you need to be able to show your future employer that you have the skills and qualifications to do the job. Continuing education, which is likely to be conducted online, is certified as an "Adobe Certified Expert" that proves your expertise.
Becoming a Web Designer in 8 simple steps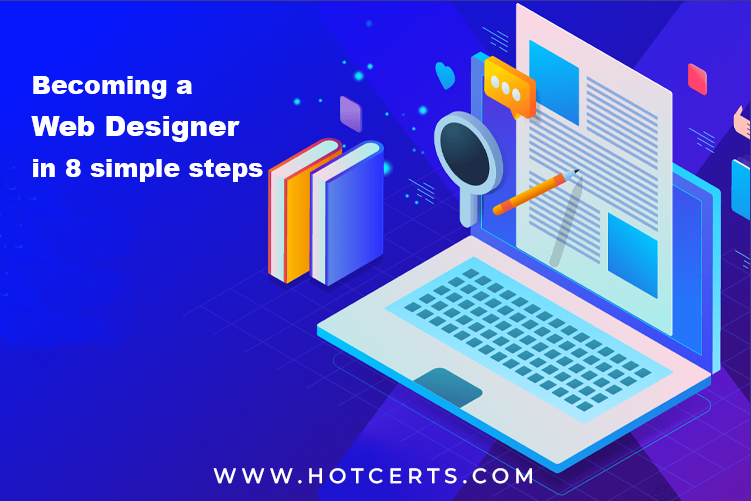 1. Acquire the required skills
To become a web designer, you need to be familiar with the technical aspects of building a website. Although you can get a college degree to pursue web design, such as an associate degree or bachelor's degree in graphic design or computer programming, many web designers are self-taught. There are subject-specific lectures online to allow you to develop your skills. The skills you need most to become a web designer are:
Graphic software
Web designers use a variety of programs, such as Photoshop, to facilitate the creation of website graphics. Familiarize yourself with these programs through research, practice, or classes.
Programming language
Most web designers need at least some knowledge of primary programming languages ​​such as HTML, CSS, PHP, jQuery, JavaScript, and Flash. Freelancers require more coding knowledge, but web designers employed by agencies may work in teams that include programmers and graphic designers.
Search engine optimization
Understanding SEO technology can help web designers create sites that stand out when users search for specific keywords or topics.
Web design theory
There are certain fundamental principles for creating a good website, such as structure, user experience, and color theory. Even if you're not in college, you can learn this theory yourself by reading a book on this subject or researching it online.
Communication skills
Web designers need good communication skills to understand the needs and desires of their clients, implement them correctly, and propose their ideas about the site.
2. Get certified
Obtaining certification in a particular area will help you acquire skills, increase your resume, charge higher fees, and prove your knowledge to potential clients. Standard certifications that web designers get include:
Adobe Certified Expert
It is a respected certification, as Adobe creates many of the tools designers utilize. You can become an ACE in a combination of programs. Each certificate demands a course and exam.
Google Mobile Web Specialist
This certification from Google demonstrates your mobile app web development skills. The exam covers accessibility, performance optimization, mobile web forms, and advanced web applications. Google offers a free study guide to help you prepare for the exam. You can take this guide three times.
3. Create a website
Once you have the skills you need, create your website. This site should be your professional homepage that introduces your skills to potential clients and allows interested clients to find your capabilities, availability, and pricing. Update your website regularly to introduce yourself accurately, show your knowledge of trends, and explain your experience as a web designer.
4. Find a job
Start your web design career by adding to your site and portfolio and performing web design work to gain experience so you can get more clients. If you want to work for an agency or bid on an opportunity using a freelance platform, you can search online job listings.
5. Build a portfolio
Maintain an up-to-date portfolio of work and skills as you acquire clients, create websites, and gain experience. Include an example of your work, positive client feedback, and a list of your design abilities. You need to have a version of your portfolio that you can email to potential clients and keep your portfolio up to date on your website.
6. Sell yourself
If you want to be a freelance web designer, your success depends partly on your ability to market yourself and your skills. Keeping your website and portfolio up-to-date is a good start, but find additional ways to inform your design community and potential clients. Use social media and professional profiles to raise awareness. Articulate with other web designers online to remain revamped on industry news and job prospects. Build good relationships with clients, secure repeat businesses, ask clients to recommend you, attend networking events and continuously develop your contacts.
8. Get the latest information
Web design is constantly evolving as technology changes frequently, new design methods are created, and consumer needs change. Continue to learn, practice, and develop skills to prove to clients that they have the knowledge and skills needed to stay up to date in the industry and build websites that meet their needs.