6
mn read
Best Web Design: 5 Best Web Builder Tools for Your Business in 2022
In the past, building a website could be possible for those people who were very fluent in coding. But gratefully, that is no longer the case. Now some fantastic tools and web builders make people easier to create a website design without having any coding knowledge. Web design and web development are two terms in which web design can only be possible with website builder tools, but for web development, there must need to be back-end coding that will act according to the web design.
For instance, if you are designing a button using a website builder but can't make that button work as this is a work of a website developer. Web developers will code according to the button that will function accordingly.
Website builders have many pre-installed templates which you can use to design a website. There are many custom design tools, analytic features, site security, and hosting services. Many businesses and companies of all sizes are now using web builder tools in their workflow. They don't have much time to appoint a web developer to design the website using different programming languages.
Now we're going to discuss what web builders are and how you can use them to design a website. Also, we'll discuss the 5 best web builder tools for designing your website.
What is a Web Builder?
A web builder is like CSMs (Content Management systems) in which the designers can build, manage, edit, and publish a good web page using different visual tools instead of writing a code. Web builder tools create other websites by excluding the need to enter manual code.
How do Web Builders Function?
One of the primary reasons we builders are so famous is they generally use WYSIWYG (What You See Is What You Get) interfaces. They allow the designers to live-edit a promo of how the web page will look, except to predict how the web page will look from the lines of codes.
Many web builder tools allow you to drag and drop the elements like text box where you want. Also, it is a much more manageable structure than stating their location in the code.
Most paid web builder tools also automatically generate the back-end coding according to the pages the users create. It makes them a significantly more visual and spontaneous approach to building sites than the conventional strategy. Also, they're more useful for website composition beginners and experienced designers who need to accelerate portions of the process.
Benefits of using Web Builders?
There are many benefits of using web builder tools. We'll discuss some significant benefits of using web builders to design your website:
No Coding Needed: As we've mentioned earlier, most web builders use drag and drop, copy-paste capabilities, WYSIWYG. Even those who do not know coding can quickly build a website. These builders also provide many different templates and themes according to your need that will help you start a web fast by merely replacing the text and images while sustaining the sitemap and layout.
Cheap Cost: Using a web builder will reduce the price of designing, developing, and maintaining a website expressively.
High-Class Graphics: A web builder provides you access to high quality graphics that can be utilized at no extra cost. These high quality graphics can be used to increase the web pages making the website more eye-catching for visitors.
Easy to Utilize: Exactly all the web builders offer drag and drop capability to their users, which means that the users don't need to write a whole new code every time for every little change the user wishes to make the website. Web builder tools give the designers the facility to easily upgrade the website images and content.
Top 5 Best Web Builder Tools for Your Website in 2022
Now we'll discuss the best web builders in 2022, which will surely give you benefits by using them. These web builders are listed after deep research of every web builder, and we selected the 5 best tools to design your website easily in 2022.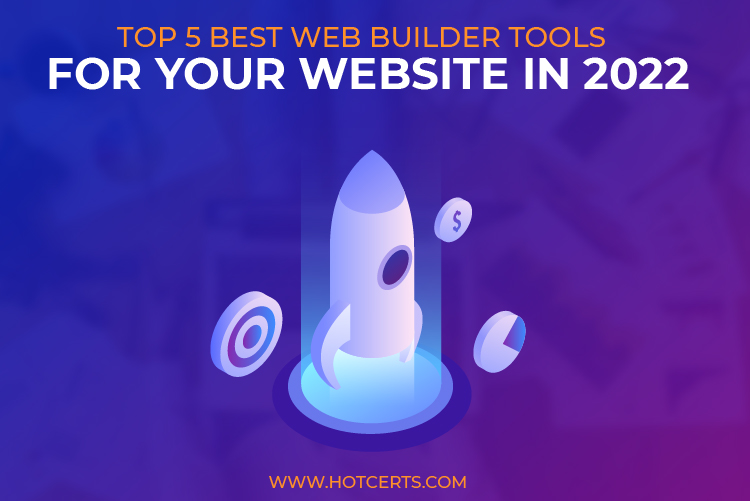 WordPress
WordPress, also known as self-hosted WordPress, is one of the largest and most popular website building stages. Almost over 44% of all the websites you see on the internet are power-driven by WordPress. CMS makes it easier for you to design a web without CSS or HTML knowledge. It also doesn't need any other programming knowledge.
In WordPress, there're many templates and plugins for the designers that enhance their experience. The enchantment of WordPress, in any case, lies in the limitless potential that can be opened with lines of code. By altering the source code, WordPress sites can break liberated from the limited choices and come to fruition as a site extraordinarily redid to your necessities. WordPress is allowed to utilize yet has different paid plans that are accessible, relying upon your conditions.
WordPress is free to utilize but has different paid plans available depending on users' needs.
Pros:
Complete Control on your website
Used to build any website
Thousands of high-quality themes for website design
Drag and drop options like in Seed Prod and Divi
Access of 59000+ free plugins
The website builder is wholly translated over 75+ languages
Cons:
A little challenging to use
Have to keep updated with every theme and plugins
Shopify
Shopify is also a top-rated web builder tool to build an E-commerce website. With many templates to browse, you can immediately set up your site without utilizing any code. There are plenty of existing modules that can assist your E-commerce with encountering run all the more easily. There's likewise the choice of adding extra code to alter your shopfront and web composition, add additional elements, and associate the site to your current frameworks. Shopify plans start at $29/month and can be redesigned for extra highlights.
Pros:
Easy to use
High Quality designs with mobile-friendly features
More than 160 themes
Fully hosted E-commerce software (don't need to manage, install, keep backups of the software)
It comes with complete inventory management, powerful stats, and unlimited products
Offers in-store POS (which allows you to sell your products by sitting at your location)
Cons:
Costly
Forces you to use Shopify's itself payment option
Charges an extra 2% transaction fee which is extremely high than any web stores
It isn't easy to move your website from Shopify
Wix
Wix.com is another widely used cloud-based web builder tool. It has many powerful features that are very easy to build and design your website. About 1.9% of the website builders use Wix as their web builder software. Wix allows entry-level beginners to rapidly design and build a site with significant drag and drop features.
You can add non-standard highlights or customize the formats with extra code. Wix even has a free logo manufacturer for anybody missing this essential component to their image. Wix is allowed to utilize; however, it has a few paid plans assuming you need extra highlights or to associate your own space.
Pros:
Receive upgraded design and templates
The interface is functional and intuitive
Receive all in one solution
You don't need to pay for hosting
Free plan with limited memory area and diskspace
Cons:
You have to upgrade to their unlimited or combo plans to remove ads on the website
Complicated to move your website away from Wix
Have to buy a separate domain name
No-unlimited plans
SEO techniques are a pain in the neck with Wix
Squarespace
Squarespace is not the informal and most accessible web builder to use o the market. It needs a lot more practice and time than Wix.com. However, Squarespace is a famous professional web builder tool known for its extraordinary designs and simplicity to use.
Utilizing drag and drop blocks and the underlying substance of the board framework, you can undoubtedly design an advanced and expert-looking site. Likewise, you can break free from the standard formats by utilizing extra HTML and CSS to make a site that accommodates your need and brand. Squarespace offers a 14-day free preliminary (which can be broadened once), yet subsequently, valuing begins at $16/month.
Pros:
It comes with enterprise-grade infrastructure
A secure and robust platform
Tons of web designs
Allows you to utilize multiple templates at once for the same website
An E-commerce plan enables you to add an online store to your site.
Cons:
Offers limited Integrations
Challenging to grow your business
Cannot add additional payment methods except PayPal, Apple Pay, and Stripe
Webflow
Webflow is a creative web builder tool designed for its flexibility. It is a website design, hosting, and CMS (Content Management System) tool all at once. With its drag and drop content block, you can effortlessly build a website. It helps to create responsive animation without any coding.
Though, with an addition of a custom code, you can improve the function and look of your website. You can create a website on Webflow free of cost. However, you must need a paid plan for your site to go live. You can upgrade the account plan to crack additional features.
Pros:
Free to use
Flexibility with plans
Ease of use
Supports 2000+ fonts
Precisely, the web design tools are powerful and conflicting what you can do with code
Cons:
Restricted code customization
Traffic is limited on some plans
Conclusion:
Web builder tools have made many web designer's career as it does not need ay complex coding to build a website for a client. We've listed top 5 best web builder tools that will surely help you to select which one is best for you.