5
mn read
Google Cyber Security Course
Cybersecurity is among the best fields in the information technology world. The demand for cyber security experts is immensely increasing day by day. Every organization is looking for passionate and expert candidates who can save their important data from cyber-attacks or breaches. Today, the number of cyber-attacks has increased extensively. As per the latest report, every day there is almost ten thousand cyber-attacks happen only in the US.
You can imagine how important it is to protect your data online. Mostly all businesses have moved towards cloud platforms and saving their data online. Though, the risk of losing the data is always on their head. Therefore, you must know about cybersecurity if you are looking to pursue your career. You must have a certification explaining your expertise so employers can hire you. Google introduces its Google cyber security course, which can validate your skills and abilities.
Keep reading the article to learn how to enroll in Google cyber security certification.
What is Cyber security?
Cybersecurity prevents internet-connected structures from cyber threats such as hardware, applications, and data. Individuals and companies use the training to avoid unauthorized access to data centers and other computerized systems.
A strong cybersecurity method can provide robust security against malicious attacks aimed at gaining access to, altering, deleting, destroying, or extorting an organization's or person's systems and sensitive information. Cybersecurity is also essential in preventing threats that aim to deactivate or disrupt the operation of a system or device.
Importance of Cyber Security in 2023
Cyber security is critical because governments, military organizations, corporations, financial institutions, and medical institutions gather, process, and store massive amounts of data on devices like computers and smartphones. A significant portion of that data may contain sensitive information, such as copyrighted material, financial information, personal information, or any other types of data whose unauthorized access or exposure may have adverse implications. That is why Google cyber security course provides you with the significant opportunity to become an expert in the field.
In the course of doing business, institutions send sensitive data over networks and to other equipment. Cyber security is the discipline devoted to safeguarding that data and the systems that perform or store it.
As the volume and complexity of cyber-attacks increase, businesses and organizations, particularly those tasked with protecting information pertaining to national security, well-being, or financial records, must take precautions to safeguard their emphasis on cost and employee information. As soon as March 2013, top intelligence sources in the United States warned that cyber threats and digital spying are the most severe threat to the nation's security, surpassing terrorism.
Basic Terminologies of Google Cyber Security Course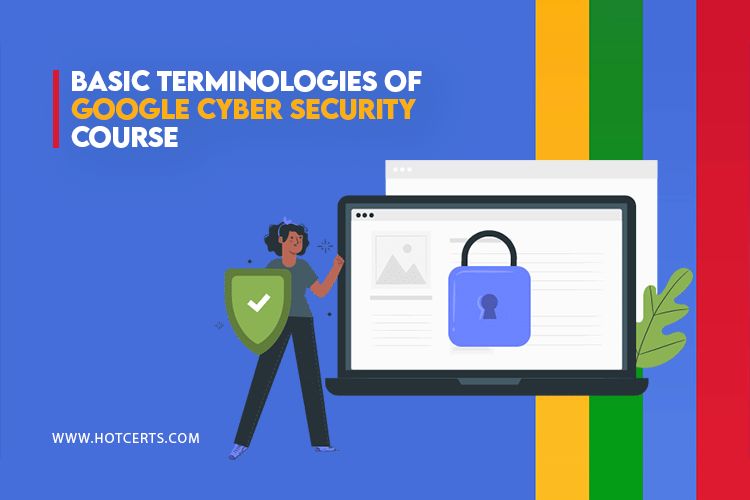 The Google cybersecurity training will assist you in comprehending some of the terminologies you'll need to know before diving into cybersecurity. You can also enroll in Google cyber security course free of cost.
Network: A network is an interaction that allows two or more computers to communicate.
Internet: The Internet is a network that connects computers all over the world via devoted routers and servers.
Internet Protocols (IP): The transmitted or received data cannot take any path. A set of guidelines is followed to regulate the flow of the internet. These are known as internet protocol rules. It is essential to step into Google cyber security certification.
IP Address: An IP address (Internet Protocol address) is a unique identifier assigned to all devices connected to a computer network and communicating using the Internet Protocol. An IP address appears as follows: 168.192.10.3
MAC Address: Every device that connects to the internet has a unique identification number. MAC addresses are traditionally unique identification hexadecimal numbers. The MAC address is as follows: D8-FC-83-C5-B5-EO.
DNS (Domain Name Server): Consider DNS the internet's phonebook. It stores all of the IP addresses as well as the names of the links. For instance, suppose you desire to visit google.com. This is entered into your web application. The name is then forwarded to the Domain controller, which determines the Internet address of google.com. The DNS server then returns the IP address to your computer.
Dynamic Host Configuration Protocol (DHCP): DHCP is a protocol for assigning an IP address to almost any device that wishes to connect to the web.
These are the basic terminologies in the Google Cyber security course.
Important Requirements to Enroll in Google Cybersecurity Training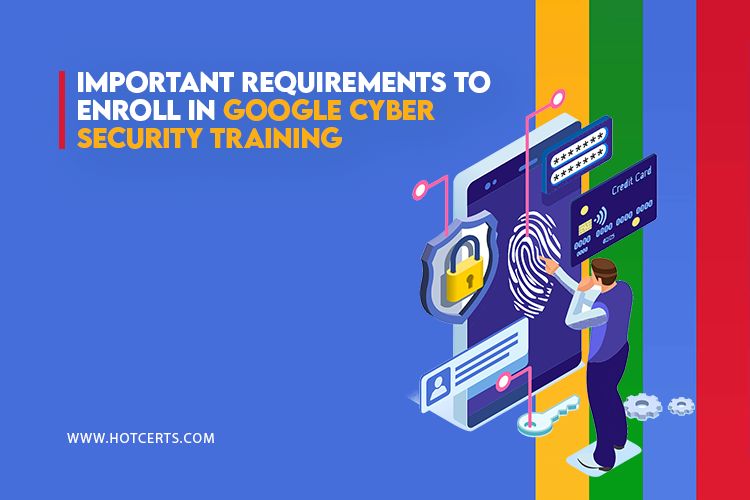 You can enroll in Google cyber security course free of cost. But, there are some essential requirements to enroll in Google cyber security course.
To work as a Cyber Security Engineer at Google, you must have the following qualifications:
A bachelor of science in computer science or a similar technical field is required, as well as equivalent practical experience.
5-years of cyber security experience is required.
Experience coding in one or more languages.
Hands-on experience with attacks and mitigation methods
Work experience in at least two of the following areas:
Security for web applications and browsers
Network procedures and network security
Pen testing and security audits
Internals of the operating system and hardening
Authorization and access management
Monitoring of security and intrusion detection
Cryptography and security procedures are used.
Forensics and incident response
Creating security tools, mobilization, or frameworks
Skills Required in Google Cyber Security Course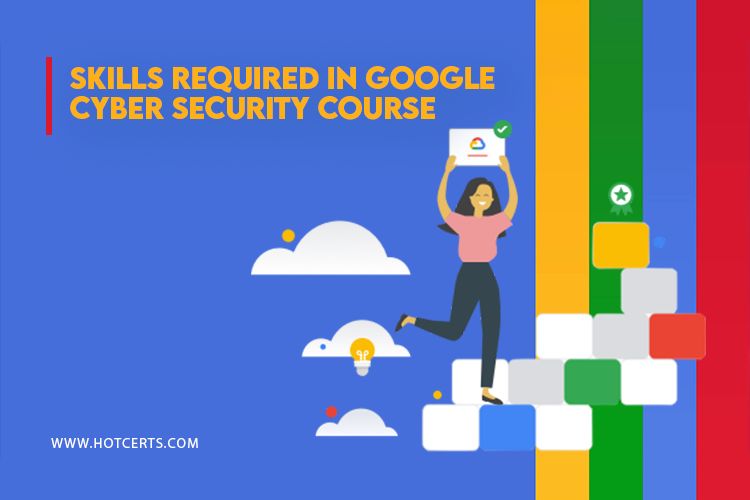 We've compiled a list of critical skills to hone as you prepare for your Google Cyber Security Course Free:
Foundational coding
Data Science
System design and software architecture
Data structures
Web application and browser security
Network protocols
Security assessment
Ethical hacking
Penetration testing
Validation and access control
Applied cryptography
Security Protocols
Incident response and forensics
Binary analysis
Project management
Team management
Leadership
Details About Google Cybersecurity Training Program
A three-month program that teaches cybersecurity startup leaders critical growth skills, internationalization methods, and Google tools & products that will assist them in scaling. Selected creators will participate in a series of workshops with a combination of Google and external industry professionals and receive mentoring in strategy, sales, and partners. The kick-off session and two additional face-to-face events will take place in cities across Europe. These will be released in the coming months.
Conclusion
Today, there is an urgent and increasing need for competent cybersecurity professionals. There is also a scarcity of those, implying a huge opportunity to enter this field. Whether you are just going to start, looking to improve your professional skills and credentials, or changing careers because you want a new challenge, the Google Cyber Security course is the best option for you. In future, there will be a huge demand for cybersecurity professionals.
Every organization is looking for competent experts who can save critical data from any cyber-attack. Comment below your questions regarding Google cybersecurity training and get your answer accordingly!