6
mn read
What Is a Marketing Technologist? Know Everything About This Growing Role in 2022
In this new era, technology has touched every aspect of our lives. Many new technologies have changed our lives and businesses too. We're now surrounded by many emerging technologies, whether wireless music players or fully integrated smartphones. You must have heard about many technological jobs like software development, cybersecurity, or data analysis. But the latest and emerging role now in the world is called "marketing technologist."
Every organization or business needs marketing technologies. The job of a Martech sounds like it is some typical technical job, yet it also sounds like it has an enormous focus on marketing and business. Today all companies or markets are entirely based on technology. Enterprises are utilizing technology to improve their productivity and profit too. That's what market technologists do.
In the past, marketers used to sell their products to single individuals relatively than to the mass market. But, now those have become marketing technologists, and they have CRMs (Customer Relationship Management), CDPs (Customer Data Platforms), predictive analysis, and DAM (Digital Asset Management) to create a mass market. Consumers or customers now have smartwatches, televisions, mobile phones, IoT (Internet of Things), VR (Virtual Reality), and social media at their fingertips. Marketing technologists use different technological methods and statistical and organizational skills to improve marketing.
This article will discuss what a marketing technologist is and more things about this emerging role. Keep reading to explore some fantastic facts and details.
What Is a Marketing Technologist?
A marketing technologist manages and delivers strategic, statistics, and administrative support for marketing various software tools and co-related processes and workflow. As the name shows, the marketing technologist's role is the combination of both market and technology.
Marketing technologist is an emerging role that conjoins IT (Information Technology) with predictive marketing skills and strategies to develop a more effective process to ensure that these marketing ideas align with an organization's principal goal. We all know that every marketing field has become more reliant on technology as we've progressed into the digital age. With marketing, marketing, and considerable information being coordinated so intensely in the computerized age, it's good to have somebody in this job who knows how to advertise and how the innovation functions.
Years ago, being an advertiser or a marketer was different from being an advertiser today. This field has generally centered around print promotions, radio missions, and TV ads to arrive at likely clients. In the advanced period, be that as it may, those types of advertising frequently assume a lower priority concerning automatic promotion.
Automatic promotion includes everything from organization blog entries and SEO to advertisements and investigation. The innovation expected to help these advertising capacities is continually growing, and with it, the requirement for gifted experts to oversee it. In the advanced age, knowing how innovation works inside promotion is essential. It is the main thrust for income and assists with expanding the client's lifetime esteem.
What Is the Main Role of Marketing Technologist?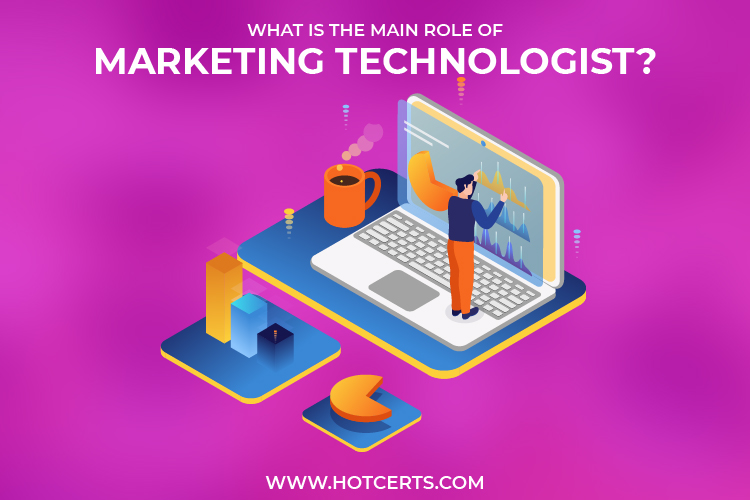 The cutting edge CMT (Chief Marketing Technologist) job has incorporated the obligations that once tumbled to outer organizations like Brinker's into the inward marketing activities and IT divisions.
A marketing technologist helps marketing groups adjust to new tools and techniques (e.g., through preparation), implement existing ones, and maximize the usefulness of different applications – from email advertising items SEO (search engine optimization) to research suites – they depend.
The development of distributed computing (i.e., the on-request conveyance of IT assets, including advertising stages, over an Internet Protocol organization) has turbocharged the reception of these marketing innovations and others, as a substantial lot of them can now be handily gotten to from any web empowered gadget and don't need super-complex setup.
Like this, cloud reception has reshaped the CMT (Chief Marketing Technologist) job itself. The tremendous scope of choices, all suitable in a moment, implies that marketing technologists should be capable guardians notwithstanding specialized aces.
This chart of content advertising apparatuses, a significant number of them cloud-based like Adobe Creative Cloud and GoToMeeting, shows the significance of the CMT (Chief Marketing Technologist) realizing which precise arrangements will best help their association's marketing endeavors.
Here are a few more marketing technologist's main areas are:
CMS (Content Management System)
Project Management
Digital ad platforms
Marketing automation tools and techniques
Database analytics and management
Primary Responsibilities of Marketing Technologist
The responsibility of any marketing technologist varies from company to company; however, their work extends to two principal areas (one is entirely focused on software tools, and the other is how marketing technologists use these tools for marketing purposes).
Martech Implementation
They might decide if promoting or marketing groups have specialized devices that fit their procedures. For instance, assuming an advertising division is still physically following the KPIs (e.g., cost per lead, transformations, and so forth) of a substance marketing effort in bookkeeping sheets, a CMT might assess the chance of carrying out a promoting robotization stage or CRM framework.
Likewise, they might handle advertiser or marketer demands for innovation and give proposals, alongside preparing how to coordinate apparatuses into promoting or marketing drives. Since many marketing technologists have an educational foundation in software engineering and commonsense involvement with IT, they carry applicable information to their contemplations of Martech merchants and the ensuing rollout of any chosen arrangements.
Figuring out the advertising instrument goods worth keeping from the refuse is no minor undertaking. Consider this outline of the match scene as of April 2019, which incorporates in a real sense a considerable number of arrangements across deals computerization, information investigation, PPC, AI (Artificial Intelligence), and many more.
Demand and Brand Building
Advertisers rely on the stages of computerization of marketing, highly informative research programming, and numerous advances as critical tools and approaches to identifying, supporting, and tracking leads. The marketing technologist is a visionary leader who shows the rest of the advertising or marketing team what tools to utilize (and how, the etiquette with which these products and management support their work.
As may be obvious, the CMT ought to be an educated authority on how marketing technology functions, both in fact and concerning genuine advertising efforts. The harmony between IT and marketing skills isn't uniform across all marketing technologist roles.
What Education is Required to Become a Marketing Technologist?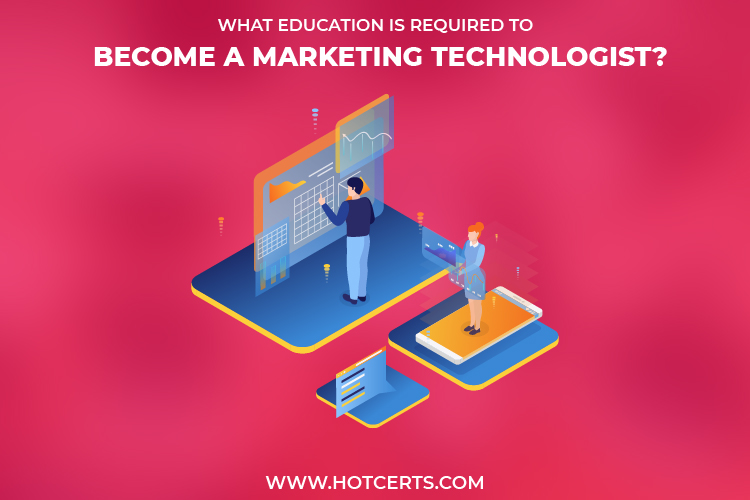 Suppose you want to become a Mar technologist. In that case, you must at least acquire a bachelor's degree in CS (Computer Science), IT (Information Technology), Data Analytics, engineering, or any associated marketing areas. A foundation in joining marketing advances with big business applications will be helpful too. Intrigued people can seek participation in a few expert associations.
The Marketing Technology Association tries to assist associations in understanding how innovation and marketing are vital components of making a brand. What's more, the Marketing Management Association offers to promote experts a medium to introduce their thoughts.
In that case, you should have a strong background in technology (that is the only thing apart from marketing technologist from other marketers) and marketing expertise. While the liberality of getting everything rolling as a marketing technologist may be disappointing for the individuals who like obvious advances, the other side is that you have a lot of choices for arriving.
Perhaps you start with an information foundation and take on complex advertising attribution projects. Or then again, probably as an IT proficient, you'll be entrusted with creating network plans for an elaborate marketing association, and things become alright from that point.
What Skills Are Required to Become a Marketing Technologist?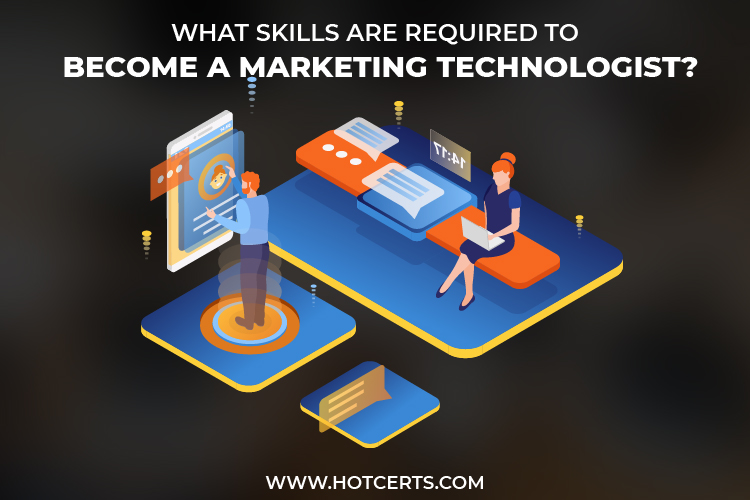 Exceptional tech skills are primary skills to become a marketing technologist because they are liable for using the best tools and software to address an organization's marketing strategy. The skills which are required to become a marketing technologist and they must have a strong grip on are:
CRM
Adobe Analytics
SQL (Structured Query Language)
HTML
JS (JavaScript)
SEO (Search Engine Optimization)
Inventiveness or creativity is one more fundamental ability for marketing technologists since they help with the production of promotion or marketing procedures. Marketing technologists will require solid scientific capacities to break down client information and decide whether strategies are viable in improving the client experience. Solid relational abilities are needed to work with marketing staff and connect points with clients.
The essential focal point of a marketing technologist is guaranteeing marketing systems supplement an association's general objectives, teaming up with a data innovation workforce, and choosing the best innovation sellers. Marketing technologists might help with thinking up computerized business methodologies.
Other work liabilities can incorporate exhorting clients on specialized and inventive issues, picking and executing arrangements like substance the executives or label the board frameworks, and guaranteeing security and exchange consistency of frameworks and items. Marketing technologists can pick distributing frameworks like WordPress and work process tools and techniques. They might prescribe content marketing devices to follow and dissever client information. Marketing technologists may likewise deal with A/B tests.
Conclusion
Undoubtedly, a marketing technologist's role is one of the emerging roles globally. This role will provide you with more excellent career opportunities. Now that you have identified and know all the9ins and outs of the marketing technologist job, you must consider that it can be the most suitable role for your technology passion.
So, what are you waiting for? Just apply for the marketing technologist role in your required company and make your future brighter. Comment below if you still have any confusion about the marketing technologist role. Our professional team is 24/7 available for your assistance.